Housing Executive funding helps to provide a vital lifeline for people in Lisburn
Kickstart Social Supermarket, operated by Lisburn Community Trust, is proving to be a valuable lifeline for local people struggling during the cost of living crisis.
Watch more of our videos on Shots! 
and live on Freeview channel 276
Visit Shots! now
A £50,000 grant from the Housing Executive's sustaining tenancies programme was awarded to the Trust to pay for a project worker to support vulnerable customers at risk of tenancy breakdown.
Since receiving the Housing Executive grant, the charity has been able to support 127 households with weekly food parcels and personal support plans.
Referrals can be made by the project worker for support from the social supermarket and other services, such as mental health and wellbeing programmes, to build tenants' practical skills for maintaining a tenancy. One to one mentoring sessions are also available.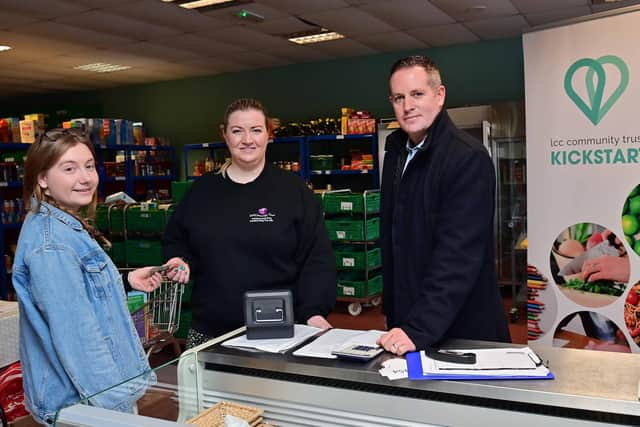 Kickstart Social Supermarket sells heavily discounted food and fresh produce to families facing food insecurity.
Lynsey Agnew, from Lisburn Community Trust, explained: "Shoppers pay a nominal weekly fee and get an allowance equivalent to the cost of a weekly shop.
"This makes people feel they are being more proactive about helping themselves and also means that they can choose the food that they want from the shelves.
"Our supermarket is proving to be a hub of activity and we have received excellent feedback from the community.
"This vital service has been made possible thanks to the Housing Executive's generous funding towards a project worker."
Local people can also get household management support, advice on how to access statutory services, budgeting support, debt referrals and they can join the Eat Well, Be Well training courses. For families, there are summer schemes, fun nights, after school clubs and cookery classes.
Lynsey added: "In one example, we had a mum of three who was referred to us from a women's refuge.
"It was her first time having to navigate the benefits system and we were able to help with that.
"We supported her with food, showed her how to develop a personalised budget, and her children attended our summer schemes to give her some respite."
Emma Geddis, Manager of the Sustaining Tenancies Grant Funding Programme at the Housing Executive, said: "We are pleased that this funding is helping so many people who need an extra helping hand.
"It can really help turn lives around and helps to build stronger communities for everyone to enjoy.
"Congratulations, too, to Lisburn Community Trust – the range of services they tirelessly provide for tenants is a credit to the team.
"The outcomes for the project have been really positive to date and are making a real impact on the lives of tenants and their families in this area."
Des Marley, Housing Executive Area Manager for Lisburn and Castlereagh, said: "Funding this project worker demonstrates the Housing Executive's continued commitment to supporting our tenants and local communities in these challenging times.
"We want people to have resilient, sustainable tenancies in the short, medium and long term and we're working with many local groups to improve the lives of many.
"By giving the right support, information, practical skills and resources we are providing our most vulnerable customers with skills to live healthier and happier lives and build more attractive, stable neighbourhoods.
"Together we are working towards creating a better environment for all."