Larne Dental Centre was named Cosmetic Dental Practice of the Year at the ceremony held in the Crowne Plaza, Belfast.
The awards, organised by Weir Events and sponsored by West Coast Cooler, saw the introduction of six new categories this year and a record number of entries.
In a social medias post, Larne Dental Centre said: "As a team we are beyond delighted to have been awarded Cosmetic Dental Practice Of The Year.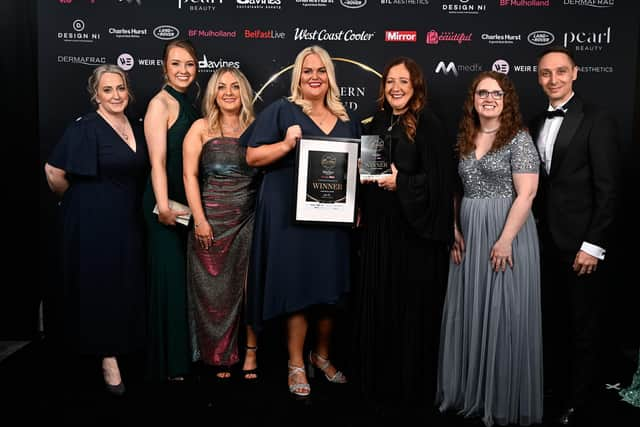 "We have been awarded two individual awards within six months of each other. This just goes to show what a remarkable team we truly have and we are so proud of each and every one of them.
"It was an incredible night and we want to take this opportunity to say a massive thank you to the organisers and congratulations to all the other winners and finalists."
Commenting on the awards, Sarah Weir, organiser and owner of Weir Events, said: "They are an opportunity to recognise and showcase the diverse range of talent and innovation of the ever-growing beauty industry in Northern Ireland. I can't wait for next year's awards already.
"We received a record number of entries which is a demonstration of the booming beauty industry in Northern Ireland as well as the passion and determination of so many of our industry professionals. Congratulations to all of our winners, I can't wait to see what the future holds for you all."
The awards were hosted by TV presenter Pamela Ballantine.