The proposal will see the construction of a Premier Inn hotel at the junction of Ballyrobin Road and Antrim Road, Crumlin, if it is given the go-ahead.
An 81-bedroom development with restaurant and bar and 100 car parking spaces is planned at the location which is 250 metres from the airport. The proposal includes new access and a right-hand turning lane from Antrim Road.
According to a Pre-Application Community Consultation Report, the construction phase will support 30 jobs with 30 jobs expected to be created when the business is operational.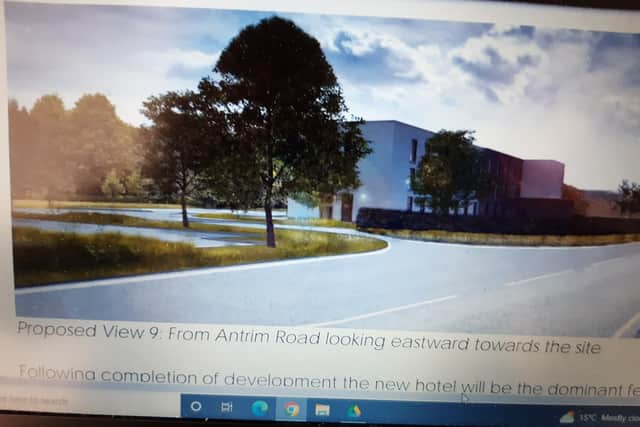 Tom McGrath, chair, of Belfast International Consultative Forum, said in the report: "An 81-bed hotel will be a significant boost We have to build new facilities if we are to expand our tourism offer. As the airport grows, so too will demand for quality facilities. The 30 new jobs are important but there's a whole supply chain that will also benefit."
Richard Holmes, managing director, of Sam Mouldings, commented: " We host customers to our Antrim factory on a regular basis and sometimes it's difficult to secure accommodation nearby. Bed space is at a premium which is why we warmly welcome what we all see as a clear vote of confidence in the area."
Economic Hub
David Shaw, general manager, Woodgate Aviation, noted: "The hotel directly mirrors the growth being experienced on the airport site. This proposed investment proves just how much an economic hub the airport is and what it's capable of delivering for the wider Northern Ireland economy."
Five people attended a public consultation event at Belfast International Services, Airport Road, on March 2. The proposed hotel development had been approved previously by the council in 2018.
Whitbread Plc, the parent company to Premier Inn, operates 82,700 hotel rooms in the UK and Ireland.
Jill Anderson, property acquisition manager for Premier Inn, said recently: "I am looking forward to building the pipeline of new hotels in the north of England, Scotland and Northern Ireland."
The council is working with Belfast International Airport to promote the borough with an eye on the American market.
It will also be working with Translink and Department for Infrastructure to strengthen bus and rail links.
Michelle Weir, Local Democracy Reporter