Nicole Cargill from Lisburn was the Highest Achieving Final Year Student (BSc Hons Human Resource Management), Louise Magowan from Dromore was the Highest Achieving First Year Student (BSc Hons Marketing), and Peter Garrett from Carryduff studied BSc Hons Marketing, picking up the award for the Highest Digital Marketing Mark.
Now in their twelfth year, the awards are an opportunity to showcase the outstanding talent in students across a range of subjects in Ulster University's Business School across Management, Leadership and Marketing.
A total of 29 awards were presented to top students in these areas including the Highest Achieving Final Year Student, Highest Mark in a programme and Best Dissertation.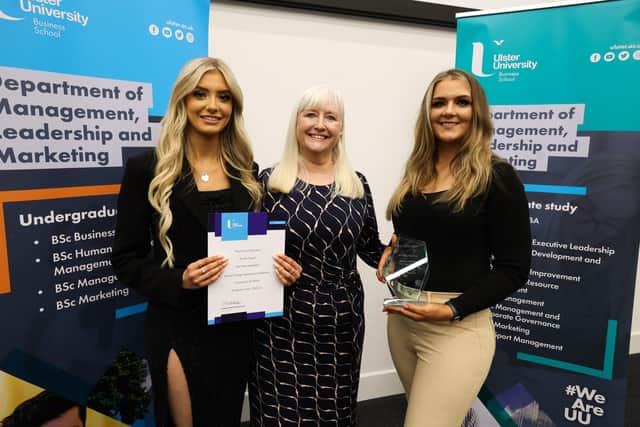 Speaking at the Awards, Dr Mary Boyd, Head of Department, said: "It is fantastic to see such a diverse range of talent in management, leadership and marketing related programmes and it is wonderful to have the opportunity to celebrate the achievements of our students on our brand new Belfast Campus. "The Ulster University Business School prides itself on enabling students to acquire knowledge and skills that will allow them to make a meaningful contribution to the development of business in Northern Ireland and beyond.
"Our professional partnerships are evidenced by the many sponsors involved with these Awards and further demonstrate our commitment to providing an important mix of academic and practical learning."