The council is designing an action plan to increase awareness, access to defibrillators and to improve community resuscitation skills.
The authority has 26 defibrillators across the borough which have been registered with The Circuit, a new national defibrillator network, which pinpoints the location of defibrillators in an emergency.
Councillors were told a customer suffered a cardiac arrest in a council building recently.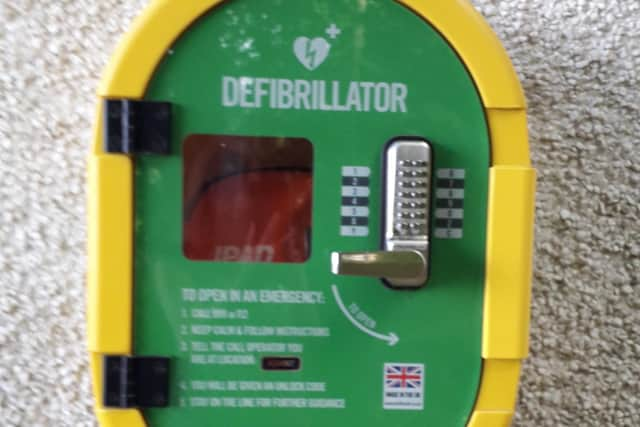 A report presented to the council's Operations Committee on Monday evening, says: "This network is key in making sure that, should a cardiac arrest occur, the nearest working defibrillator can be accessed quickly.
"As defibrillators are registered, their location and status is instantly synchronised with the emergency services' systems. If AEDs (automated external defibrillators) are not registered with the network, then the emergency services will not be aware of where they are or how to access them.
"The Circuit is therefore vital in ensuring that people on the scene of a cardiac arrest can get to the nearest working AED quickly, as the 999 operator can identify where the nearest device is situated."
Sudden Death
Speaking at the meeting, Airport Sinn Fein Councillor Annemarie Logue noted the number of sports clubs in the borough and that sudden death can occur among young people.
She also commented on the importance of 'Heartstart' programmes to promote awareness in local communities.
According to the British Heart Foundation charity, fewer than one in 10 people survives a cardiac arrest if it happens outside hospital. Performing cardiopulmonary resuscitation (CPR) can double the chance of survival.
The Northern Ireland Ambulance Service (NIAS) attempts resuscitation on over 2,000 people suffering a cardiac arrest each year. NIAS says for every minute that passes whilst in cardiac arrest, chances of survival decrease by 10 per cent.
"When someone suffers a cardiac arrest, their heart stops and blood is no longer being pumped around their body. The longer the patient waits for emergency life-support, the harder it becomes to restart their heart.
Electric Shock
"A defibrillator is a device used to give an electric shock to help restart a heart when it is in cardiac arrest.
"If more public access defibrillators were available, more people could receive a lifesaving shock as quickly as possible, before the arrival of an ambulance, giving them the greatest chance of survival.
" AEDs are safe and easy to use by anyone with little or no training."
Macedon Ulster Unionist Cllr Robert Foster commented that lives will be saved if the location of the nearest defibrillator is known.
Michelle Weir, Local Democracy Reporter