Mr Alan McDowell, founder of the Centre, revealed both women had 'heard positive reports' and 'wanted to explore our model'.
-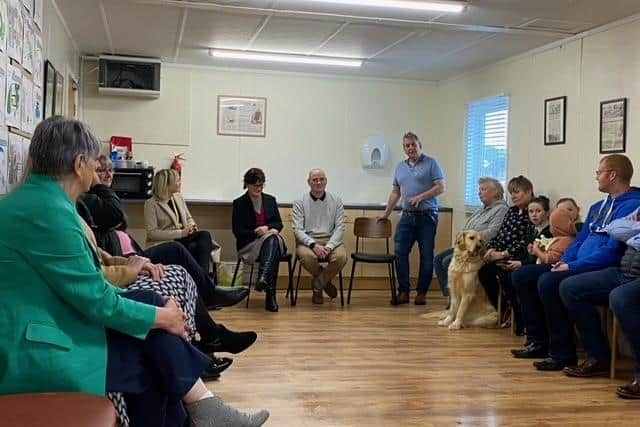 -
Mr McDowell said they assembled a team of people 'committed' to helping develop the centre including representatives from their 'psychotherapy team, some of our
therapeutic activity facilitators, some clients currently in therapy, some participants engaging in our practical classes, some of our private sector funders and some of our public sector funders'.
Portadown Wellness Centre chairperson, Dwain Toland and Alan welcomed Dr.O'Kane and Mrs McGall and shared his own personal experience of mental illness.
Mr McDowell said: "Two inspirational poems were delivered by pupils of St. Marys Primary school, Derrytrasna: The Desiderata and Our Deepest Fear by Marianne Williamson."
Dr O'Kane said: "Jan and I are blown away by the commitment and community effort put in to make this project effective and successful. We are heartened by how many representatives from the community have combined to provide support for the community as a whole. We believe there are many opportunities for the Trust and Portadown
Wellness Centre to work in collaboration to provide important and necessary support for those currently struggling in the community today."
Alan revealed that Portadown Wellness Centre provides 'professional counselling, psychotherapy and solution focused hypnotherapy sessions at a subsidised fee of £25.00 per
He added: "Currently we have a team of six very experienced and professional therapists including two who are fully qualified to provide counselling for young people. In addition, we provide practical, therapeutic activities including classes in pottery, ceramics, woodwork, arts, crafts, sewing, fashion, gardening, horticulture and yoga. Our Autumn programme will also include classes in cookery, baking, pilates, flower arranging and music therapy.
"Our aspiration is that our Centre is community led. It is a Centre where the community supports the community. Our vision is that we are supported in the future by our private sector partners, our public sector partners, Armagh, Banbridge and Craigavon Borough Council and The Department of Health. We desire all of our partners to work in collaboration and together to develop a Centre that delivers support and encouragement to everybody in the community regardless of religion, background, financial status, sexuality or nationality.
"Our long term strategy is to be self-financing. We have developed a stylish Empower Gardening Educational Centre on the same site as the Wellness Centre on the Armagh Road, Portadown with all profits being put back into Portadown Wellness Centre."