Susan Still, and Jacqueline Dorrian from the South Eastern Health and Social Care Trust, received the Outstanding Contribution to Midwifery Services: Pregnancy Loss & Bereavement Care, at the RCM annual awards in London.
Susan and Jacqueline, supported by a wider team, founded the Forget Me Not service for women have lost their babies during pregnancy. At the core of their support for women is the Forget Me Not group made up of women who have lost their baby. They meet regularly with the midwives and wider team to ensure women have a voice in shaping how bereavement services are delivered and designed.
Gill Walton, Chief Executive of the RCM, said: "Nothing can take away the pain of losing a baby, but the right care and support can make the grieving process just that little bit easier for women and families. Crucially, the service Susan, Jacqueline and the team created has women right at its heart and centred around their needs. This is a truly inspirational project from an inspirational midwife, and they deserve the attention and praise that this award brings."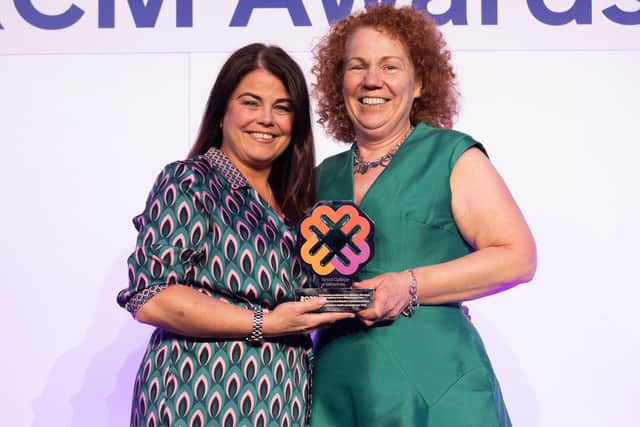 The bereavement care designed by Susan, Jacqueline and the team is a truly wrap-around package. They have also enhanced the skills staff in the maternity team around pregnancy loss with ongoing training for midwives, maternity support workers and student midwives. They link closely with outside organisations such as Sands and Tiny Life who offer bereavement support, and with other health and social care organisations, such as those offering mental health support.
South Eastern Health & Social Care Trust, Assistant Director of Woman and Child Health, Kieran Quinn added: "The Trust is delighted that the Bereavement Team received the award for Outstanding Contribution to Midwifery Services: Pregnancy Loss & Bereavement Care at the RCM Annual Awards.
"This award reflects the dedication and commitment of the work that Jacqueline and Susan provide to bereaved families at an incredibly sad time. I would like to congratulate them both on receiving this award."