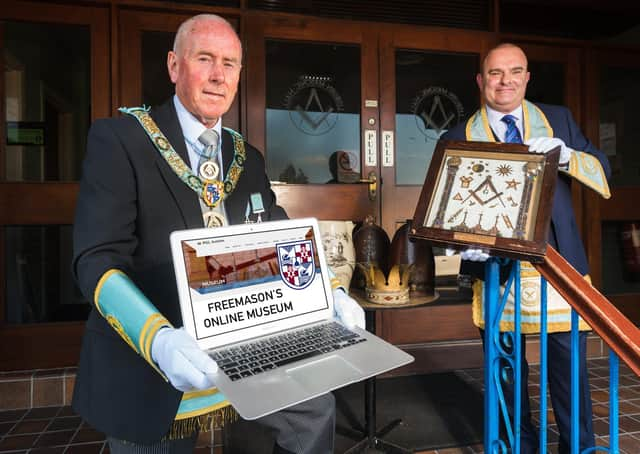 Freemasons Ivan Gillespie and David Martin with some of the treasured artefacts from the Freemasons Museum
Project organisers, Freemasons Ivan Gillespie and David Martin were determined to move their stunning collection of interesting artefacts and documents into an online museum for all to see.
Ivan said: "Some three years ago in July 2017 when the Provincial Masonic Hall in Rosemary Street, Belfast was sold, the artefacts in the museum were placed in storage until a decision was taken about their future. With no immediate future of having a museum to display the artefacts and after consultations with representatives from the Ulster Museum and Senior Officers of Provincial Grand Lodge of Antrim a Virtual Museum was proposed. In 2018, the Provincial Grand Lodge celebrated its 150th Anniversary some of the artefacts were removed from storage to be displayed in a superb exhibition in Belfast's iconic Linenhall Library. There was a remarkable response with great interest from Freemasons along with the community and visitors to the City.
It was this event that prompted us to proceed with a Virtual Museum on our Provincial Grand Lodge web site."
The artefacts in storage have all now been photographed and a visit to the online virtual museum will allow the community and visitors across the world to view the artefactssome as old as 1731:- an old Lodge warrant, and also what may be the only photograph of Major John Brown who, as Worshipful Master of his Lodge in 1783, laid the first stone of the 'Market House' known as the White Linen Hall which was later demolished to build Belfast City Hall.
Ivan said: "This was one of those projects that was slow to get started, but lockdown provided me with a great opportunity to keep me busy and do something which contributes to the Freemasons legacy for generations to come".
David said: " Freemasonry is not a secret organisation, we have lots to share and we very much welcome the interest, this museum plays a vital role in that sharing process. I hope people will want to visit the site and find out more about Freemasonry and discover that what we stand for is not sinister or secretive, but simply that we exist to make good men better. This organisation, which I am extremely proud to be a member of, instils in its members a moral and ethical approach to life. We are an organisation which is charitable caring, honourable, promotes peace, loyalty, the good order of society and upholds the law." You can visit the online museum at www.pglantrim.org