The video depicts an area behind Rowan Park in Craigavon near the AFC pitch which is carpeted in rubbish including discarded and used needles, syringes and packaging, drinks tins, cigarette butts and various types of drug paraphernalia.
The area is near a path children take to local schools and the South Lakes Leisure Centre is just a few minutes walk away.
-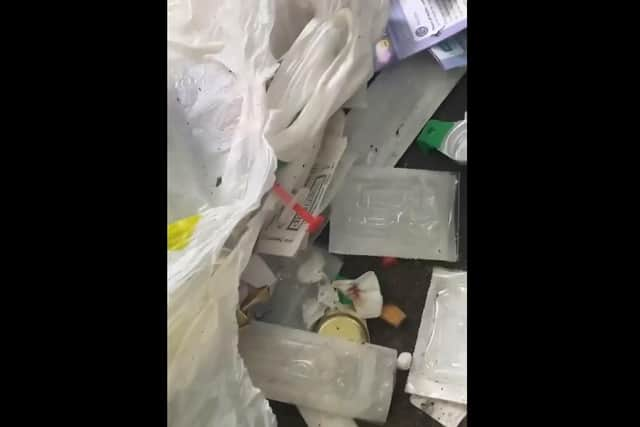 -
The young mum said: "Just a warning for anybody that likes to walk around Craigavon AFC pitch, clearly this is an area frequented by heroin users. Wouldn't want to imagine a child falling into anything there and harming themselves on anything that's been used.
"Pharmacies provide clean and sterile needles and equipment for injecting drugs including sharps boxes but clearly these people don't care. The council have been contacted to clean it up."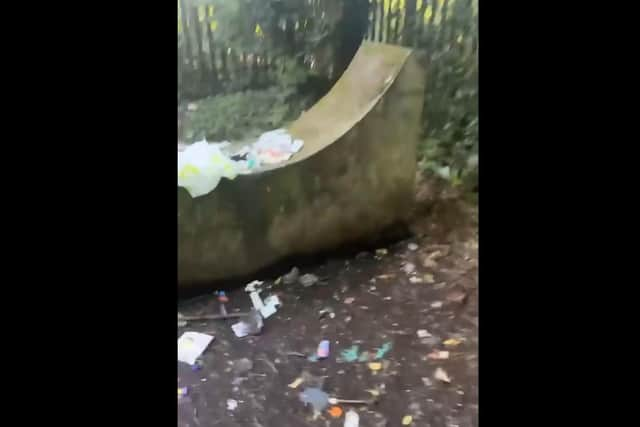 Another resident said Armagh, Banbridge and Craigavon Council was contacted to clean up the area. "When someone from the council arrived and saw just how many needles there were, the police were contacted and helped clean it up."
Heroin has been an increasing problem in the wider Craigavon area for the past 8 to 10 years however it was mostly behind closed doors. Now more and more instances of outdoor drug use including syringes have become prevalent in drug dens such as this one in Craigavon central.
A PSNI spokesperson said: "Police received a report on Monday 22nd May that a large number of needles had been discarded on a path near Rowan Park in Craigavon. The council was notified and the needles were safely removed. No arrests have been made at this time and enquiries into the matter are ongoing."
Neighbourhood Policing Team Sergeant, Brian Hull said: "Our advice to anyone finding a syringe or needle is to not touch it but contact police or their local council who will dispose of it safely.
"We would also remind those who use needles of the risks to others that they cause by discarding these items so wantonly. Such items can be dangerous, especially to younger children who may not be aware of what they have found.
"Police will continue to use high visibility, targeted patrols and every method at our disposal to disrupt and arrest drug dealers involved in the sale and supply of drugs, and put them before the courts.
"Drug and substance misuse and dealing is a policing priority and we will continue to work with communities and partner agencies to reduce the threat of harmful and illegal activity. We are asking everyone for their support and co-operation in tackling this problem through the criminal justice system.
"We all have a responsibility to help make where we live safer for everyone. Reporting crimes or incidents that impact on your quality of life helps focus our patrols where they are needed and take positive action. Ring us on 101, report online at www.psni.police.uk/makeareport or speak directly to your Neighbourhood Team."