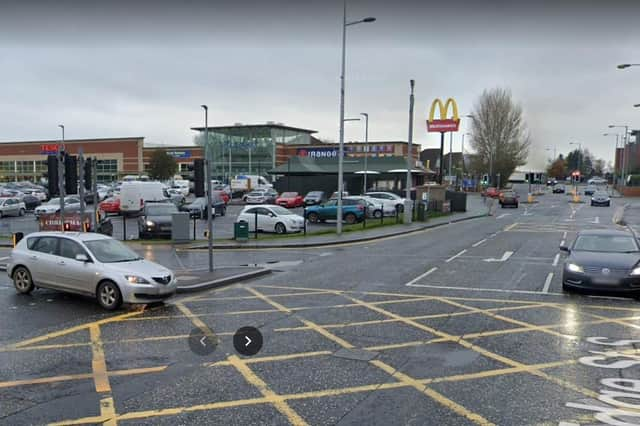 Councillor Lavelle McIlwrath, who sits on Armagh, Banbridge and Craigavon Council, condemned the assaults, criminal damage and vandalism carried out in the Meadow Lane area of Portadown.
-
-
Cllr McIlwrath said: "Information suggests that a particular group of teenagers, some of whom are known to police, are creating havoc around the Meadows Shopping Centre, McDonalds and other retail outlets in the area.
"Security staff at the Meadows, staff at McDonalds and employees at Tim Horton's have all been subjected to abuse and in some cases assault over the last few days as well as criminal damage caused to several businesses in the area. Traffic lights were also damaged at Meadow Lane to the extent that a serious road traffic collision could have occurred.
"All of these incidents are unacceptable and deplorable and must be condemned in the strongest possible terms.
"In the last 24 hours I have been liaising with PSNI, PCSP, Businesses and Community Reps in order to bring about a robust and swiftly co-ordinated response to these unwarranted attacks and incidents," said Cllr McIlwrath.
"I also appeal to parents and guardians to make sure they know where their children and young people are particularly in the evening in Portadown.
"It is important that employees and businesses can work and trade without fear of attack or damage. These reckless incidents must stop and stop now," he said
Police in Portadown warned there will be an increased patrol of officers in the Meadow Lane area following recent incidents of anti-social behaviour and criminal damage.
A stark reminder has also been issued by police that those involved in committing such offences face the very real prospect of prosecution and a criminal record.
Neighbourhood Inspector Adam Ruston said: "We have received a number of recent reports of anti-social behaviour and criminal damage in the shopping centre in the area. Reports have included groups of young people being abusive towards staff and starting fires in the toilets.
"In light of these recent incidents, I am appealing to those involved to keep a cool head and think about the consequences of your actions which could lead to a criminal record.
"Our local neighbourhood policing teams have been working alongside our partners to resolve these issues. We have met with the staff in the shops affected and we are planning to meet with local representatives next week.
Inspector Adam Ruston continued: "We would continue to appeal to parents and guardians to explain to the young people in their care, of the dangers associated with anti-social behaviour, which could result in sustaining injuries to themselves, others or ultimately gaining a criminal record.
"Our enquiries are currently ongoing into all of these recent incidents and we would appeal to anyone with any information or who may have mobile or other footage to contact police on 101."
Alternatively, you can submit a report online using the non-emergency reporting form via www.psni.police.uk/makeareport/.