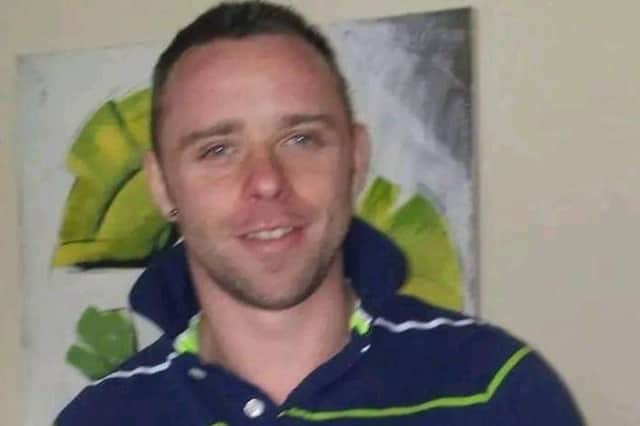 The 39-year-old, who was a father-of-three, was shot on Thursday January 12.
His grieving family and friends gathered at St Peter's Church in Lurgan this morning for his Requiem Mass.
-
-
Fr Joseph Wozniak told the congregation that Shane was 'a life-loving person who loved his family more than anything'. His children were his heart and soul. He lived for them. He will be deeply missed by all especially his children Josh, Jamie and Tynisha and his sister Patrice. Shane, you have now gained your angel wings and are now reunited with your father John and loving sister Natasha once again.
"It is always a sad day when we celebrate a Requiem Mass but especially when a young man's life has been ended in such a brutal and callous way. It is important for us to always remember that murder can never ever be justified.
"What has happened to Shane isn't right and if we feel bitter and angry as well as deeply grieved at the unfairness of it all there is no heaven or earth who can blame us.
"Things aren't meant to be like this. Everything is meant to be different. And there are just no easy words we can say that can explain the injustice of what has happened to Shane.
"All we can do today is be whatever comfort we can be to all of Shane's family. Apart from this all we can do is be here for Shane, to surround him with words of kindness and respect and give thanks and honour all the goodness that was in him.
"And lay him to rest in a warm embrace of this love, this kindness and this gratitude.
"For the past few days I don't think I have heard anything except very kind and very genuine words about Shane.
"He was a good man, this is what so many people have been saying this past few days as we have all struggled to come to terms with the tragedy that brings us together now.
Passing on the condolences of the priests of the parish Fr Wozniak said: "This is a sad cruel goodbye that we have to say today. All we can be grateful for is who Shane was and what he meant to everyone who loved him, liked him, enjoyed him and appreciated him.
"Though the fact his life was so short, it was a good and happy life, that the memories of him are always going to be good and warm. I pray that Shane is with God now.
"We know that nothing is going to be quite the same again. Our hearts have been wounded by this grief and the scars we now have will always be there. We wish that things were not like this. Young though he was we are glad we have had the gift of Shane's life. We are glad of his love and his friendship. We are glad to have known him loved him and we are glad, cruelly though his life has ended, that our memories of him are always going to be good and warm and happy."
Shane Whitla was the dearly beloved son of Patricia and the late John and loving daddy of Josh, Jamie and Tynisha, much loved brother of Paul, Patrice, Francis, Nathan, Connor and the late Nigel and Natasha R.I.P.After his Requiem Mass, interment was in St Colman's Cemetery.His death is very deeply regretted by his loving family and entire family circle.Family flowers only please, donations in lieu if desired to Addiction N.I c/o Jack McLearnon & Son Funeral Directors 75 North Street Lurgan BT67 9AH. Tele (028) 38 322232 or donation box in the home.