Local man Declan McCann who owns a smallholding in Dromara, has received the trees through a partnership between the retail brands Supervalu and Centra – part of the Musgrave Group – and Trees on the Land – a charity and not-for-profit project from the Green Economy Foundation.
The convenience retailers last year announced they would plant 50,000 native trees across Northern Ireland over ten years, and in 2022 planted 5,000 trees across 13 locations, with a further 5,000 planted in 17 locations this year.
Mr McCann said: "Our land looks onto Slieve Croob, which is in an 'Area of Outstanding Natural Beauty' and there is an abundance of wildlife. Planting these trees and hedgerows will provide a haven and shelter for the many birds and animals, as well as increase biodiversity. My thanks go to SuperValu and Trees on the Land for their support."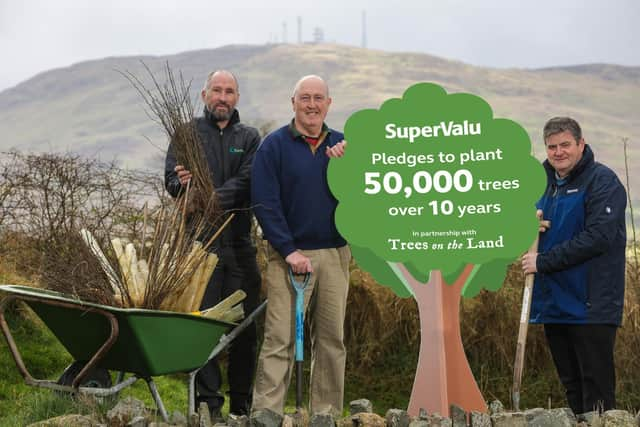 Frank McPolin, manager of SuperValu Ballynahinch, who visited the project, added: "At SuperValu, we're taking real sustainable action to help our communities and believe that small changes can have a big impact.
"We are really pleased to sponsor the planting of 275 trees on this land, which Declan explained is home to much wildlife including Red Kites. It will create many long-term benefits, not least absorbing carbon dioxide."
Trees on the Land is a cross-border initiative working to establish young native trees across the 32 counties of the Republic of Ireland and Northern Ireland. Find out more at https://www.treesontheland.com/