A kind, warm, positive person who helped all she knew, the congregation heard at the funeral of Craigavon nurse Ciara McElvanna who died tragically days after Markethill crash
An adoring daughter, loving wife, devoted mother, a supportive friend and a caring nurse, Ciara McElvanna has left a positive imprint in so many lives across Co Armagh and beyond.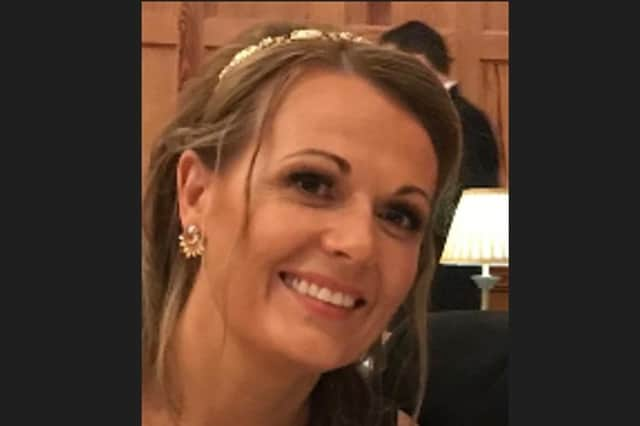 Her life was tragically cut short on Thursday last succumbing to her injuries sustained in a multi-vehicle crash near Markethill on Saturday November 5. That crash also took the lives of Patrick Grimley and his wife Ciera.
On Saturday St Joseph's Church in Madden was packed for the funeral of the young mum. Her husband Kevin, a consultant at Craigavon Hospital and still suffering the effects of the crash, was joined by three of his children each gripping their mother's coffin as it was brought towards the altar.
-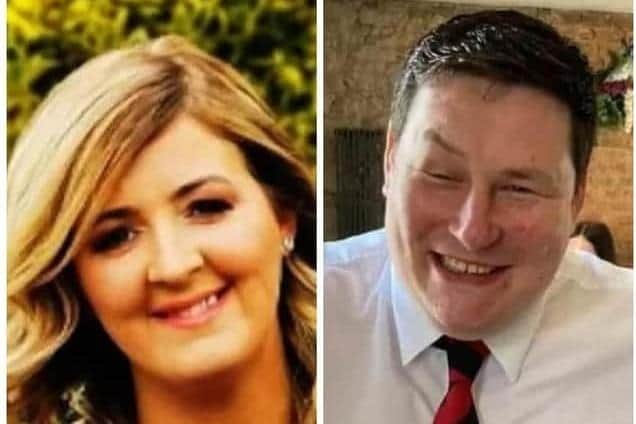 -
Celebrant Fr Aidan McCann welcomed the congregation to St Joseph's on 'this extremely sad and difficult occasion for her Requiem Mass including her husband Kevin, and four children Niamh, Claire, Dara, and Aoife, Ciara's parents, brothers, sisters and all members of Haddock and McElvanna familes, friends and neighbours.
On the Altar were some momentos representing Ciara's life, including a family photo to represent her devotion to her family, her tunic representing her nursing role and passion for her work and a Madden jersey as Ciara and all the family were part of the GAA family.
"We are all here today in such great numbers to express our solidarity and great sorrow at the untimely passing of Ciara and to be a support for each other, most specially for Kevin and the children.
"In this month of November dedicated to praying for and remembering the dead, we are here to pray for Ciara and remember her fondly and lovingly, asking God too for peace, strength and consolation for all of us who mourn her passing at this sad and tragic time. May she rest in peace. Amen."
After the Gospel, Fr McCann said: "Ciara was one of seven children. She grew up in Meadowbrook in Craigavon and later Sugar Island Road, Bleary.
"Her name Ciara comes from the Irish ciar which means dark-haired. It also can be derived from the Irish cara which means friend. Ciara was a very friendly, very likeable girl who made friends easily – a friend anyone would love to have – true friend to many here. She was a caring cara, a caring friend, both at work and with family and friends. She was a caring and devoted mother, wife and friend through and through.
"Ciara began working in Craigavon Area Hospital in 2002 having studied nursing in Queen's and recently took up a specialist post in urology having worked for a year in both urology and general surgery. Her work was more than merely a job where she treated patients but she genuinely cared and was concerned for their wellbeing, in her professional manner making sure they were comfortable and always at ease.
"It was on the wards of Craigavon that Ciara and Kevin first met and from there began their romance together, travelling together to Brisbane for a year. It was in 2009 that Ciara and Kevin tied the knot here in Madden in this church, before this very altar making their loving vows to each other. Most unfortunately til death do us part, has come sadly and tragically far too soon.
"Ciara was kind. She was warm. She was thoughtful. She was a good listener. She had a very positive nature with a glass half full mentality. She was a goer and very energetic. She was chatty, sociable and great at getting people together and organising dinners and events.
"She had a wonderful smile and contagious laugh, excellent at planning and loved not only arranging her own family's holidays but helping at suggesting things for other people's getaways too. She enjoyed getting away to the heat of the sun and enjoyed camping holidays in France with her beloved family as well as trips away to Donegal and to the west of Ireland.
"Given her friendly demeanour she never had any problem finding someone to look after the children when they were away and would happily and frequently return the favour," said Fr McCann.
"In the spirit of the Gospel, true to her caring nature looked after her children with great love, tenderness and devotion – Ciara always making sure they had enough, were always comfortable and well provided for, gently caring for them and nursing them back to health when they were sick – not to mention her caring kindness in her own professional nursing role.
"Ciara was made more than welcome here in Madden in her new home at Kilcreevey. She quickly became a Madden girl – part of the great Madden community – not afraid to get stuck into her new life easily making new friends. She was often seen up and around the primary school and at the football pitch at her children's training and games – taking it a step further and acting as a committee member of St Joseph's Camogie Club – always willing to help out in any way she could.
"She was well known and well loved by all here in Madden and she will be equally well missed," said Fr McCann.
Ciara's daughter Niamh, during the Prayers of the Faithful said: "We thank God for mummy's life. We are so grateful for all the help that she gave to us in our lives. We thank mummy for all the love and generosity that she showed to her patients and all who knew her."
There were also prayers for the emergency services and staff at the hospital who looked after Ciara and Kevin during their time in hospital. There were also prayers for all those who were injured or affected by the tragic accident. And also prayers for those who received Ciara's donated organs that they may life long and healthy lives.
Kevin and her friends Niamh and Nuala gave post Communion reflections. Niamh said: "Our Ciara, some girl for one girl. It was an absolute privilege when Kevin asked us to say a few words about Ciara. Ciara was the loving daughter to John and Roisin and the best sister to Conor, Shauna, Séilínn Caitriona, Cáilín and Sean. She adored each of you and you her. This was also true of her extended family – all her brothers and sisters in laws and she also held a very special place in her heart for all her nephews and nieces.
"A blossoming romance began thanks to Kate McCooe, Craigavon's cupid. She gently encouraged Ciara and Kevin – even taking Ciara on a wee road trip to Madden to find out where Kevin hailed from. Once they met, they never looked back. Ciara joined the McElvanna clan back in 2009. Her family grew and she would spend many happy years as Kevin's wife. She and Kevin built what should have been their forever home. Many memories have been created in Kilcreevey and those memories will live on in her incredible family. Ciara arrived in Madden as a stranger but quickly settled in becoming a wonderful friend to so many of you gathered here today. She launched herself into this amazing community – a Madden mum and as I recently called her Mrs GAA – washing jerseys, cleaning club rooms, coaching fundraising, stewarding, volunteering for any role with eagerness. Before meeting Kevin, Ciara had hardly graced a Gaelic pitch. She would often be found on a netball court and excelled in this sport. The netball jersey was soon swapped for a netball jersey – and on the rare occasion an Armagh one.
"Ciara was a busy girl, juggling work and home life, however she was always on hand to help others out. This too was reciprocated and any one of the other Madden mummies would be on hand at any time. They weren't just a group of mummies, they were a great group of friends who have many a story to share of their antics when they get together for a night's craic.
"Despite loving her time in Madden, she was often known to have a suitcase in the boot of the car to have an impromptu overnight stay in the Bleary or any of her sisters' homes. She was never far away from a family gathering or a quick drive by for one of her mummy's dinners in Sugar Island."
"Ciara dedicated her nursing career to Craigavon Hospital qualifying in 2002 she secured a post in the urology ward – 2 South and this was to be her passion – a passion for peeing we used to joke. She worked with an amazing team of colleagues many who became fantastic friends. Over the years she cared for so many and most recently had achieved her dream job – a specialist urology nurse working alongside her best friend Nuala was an added bonus. The entire Trust and further afield have been shaken by the loss of such a radiant nurse and her legacy will live on in all those lives she touched.
"Ciara and Kevin left for Australia in 2014. I gifted them with a boomerang and told them not to forget to come back. They nearly did. They loved their time there and everywhere Ciara went she lived life to the full and again making amazing friendships. Testament to this is the Australians are here with us today, jumping on a plane when they heard the news to say their final farewell.
"A recent Queen's reunion a few weeks ago Ciara and Kevin got all dressed up and celebrated 20 years of Kevin's medical career, reconnecting and reminiscing with lots of colleagues some who have became life long friends and who have been absolutely outstanding the last few days when Kevin has needed them most."
Struggling to hold back tears, Niamh said: "I have the absolute privilege to call Ciara one of my longest and best friends meeting 25 years ago through a mutual friend we just clicked and this was accelerated when we started our nursing tears in 1999 and we never looked back. She was simply a real gem who I loved dearly. Lots of stories have been shared these last few days all of which reflect a similar theme – Ciara was the most genuine, fun-loving and loyal girl – an all or nothing girl. If you were lucky enough to have her in your life, she gave you her all. Ciara and Kevin, AKA Barbie and Ken, recently attended a Halloween Party in Fiona's house and the last photo she sent me.
"Kevin, or as Ciara called you Kev, she truly adored you. They have four beautiful children. Mummy loves you always. Family, where life begins and love never ends."
Nuala said: "Yes, no problem, happy to help, count me in, fire them up, who's car are we taking – are all words I and many of you will have heard from Ciara. Ciara seemed to have more hours in her day than the rest of us, well certainly more than me anyway. Ciara was a ball of energy, a real pocket rocket who embraced life to the full. Always the life and soul of the party and never liked the fact that, according to all of her sisters, she danced like a rubber band and had not a note in her head. This did not hold Ciara back. As Ciara would say in her own defence that she got the good looks out of all of her sisters. Ciara was a bit of a prankster. In fact, on Ciara and Kevin's first Valentine's Day she decorated his car, which was parked at Craigavon Hospital, with a dozen roses, hid in the hedge with a friend, called the porters to contact Kevin as he had to move his car and waited in the hedges to watch the events unfold.
"Ciara was full of fun but often this could be at her family and friends' expense. Ciara was exceptional, loyal and sincere and words like warm and welcoming to everyone spring to mind. All of these descriptions fall far short as there are no words or expressions that adequately capture the essence of Ciara. She was a uniquely special person with the kindest heart and most infectious smile and she has left the most indelible impression on so many people. You simply had no option but to be her friend. Ciara had a way of pulling you in and embracing you as someone of importance.
"She would always encourage those around her to be the best they could be. She was a great advisor and always supportive of her friends. She was cool-headed, calming and always the person to call in a crisis. Over recent days it has become more apparent that Ciara was held in the highest esteem by all her work colleagues and most especially from the nursing and medical professions.