Seamus O'Hara, who stars in the Oscar-nominated 'An Irish Goodbye' spoke to the Larne Times following the announcement that the film had made the final shortlist in the Live Action Short Film category for this year's ceremony at the Dolby Theatre at Ovation Hollywood.
A total of 200 short films had qualified to be considered for the live action short category and now An Irish Goodbye, written and directed by Tom Berkeley and Ross White, is one of five to have made the final cut.
It is the only English-language production to feature on the shortlist and is in the running for the accolade alongside Ivalu, Le Pupille, Night Ride and The Red Suitcase.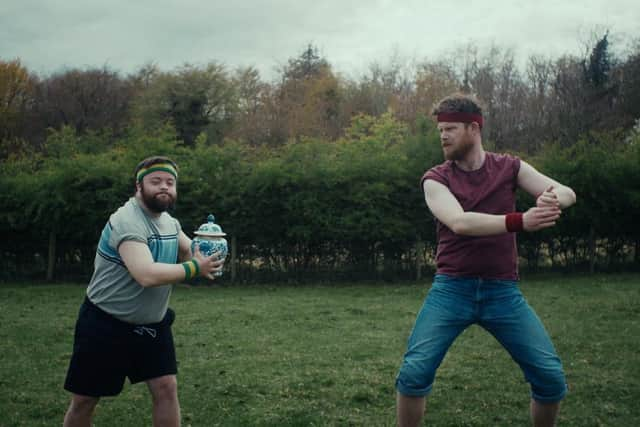 The movie is about a pair of estranged brothers ( Turlough and Lorcan) reunited following their mother's untimely death.
The film, which was shot at locations across Northern Ireland, including on a farm in Templepatrick, has also been shortlisted for the British Short Film category at this year's BAFTA Film Awards next month (Sunday, February 19).
Seamus, who grew up in Cushendun, explained: "Since we found out that the film has made the final shortlist, it's definitely in a different gear now. It's wild!
"It really is great news, but it's nowhere near sinking in yet.
"We have got the flights booked to LA and the hotel booked, plus we are sorting flights to the BAFTA's in February.
"My agent Shelley Lowry has been fantastic helping to sort everything.
"I am really looking forward to attending the Oscars and the BAFTA awards. It will be an opportunity to get out there and meet other actors and film makers.
"The films to have made the shortlists have been deemed the best the judges have seen over the past year. I am not thinking competitively. I am just wanting to enjoy the experience and anything else is a bonus."
The actor, who now lives in Newry with his family, added: "My sincerest thanks goes to the people of Northern Ireland and further afield. It is thanks to this support that the film has earned these plaudits and the goodwill of people has been much appreciated."