Tony Barclay (64) never dreamed he would be running ultramarathons when he was registered blind at age 36 and he wants to encourage anyone who has experienced sight loss, or is blind or partially sighted, to consider how they can get more active, through the new See Sport Differently initiative by the Royal National Institute of Blind People (RNIB) and British Blind Sport (BBS).
In a series of emotive videos, the campaign shares the stories of blind and partially sighted people who have overcome the many hurdles that often prevent them from getting involved in physical activity and celebrates their participation in activities such as swimming, martial arts and adapted team sports.
The goal is to address findings that over half of the blind and partially sighted population are inactive (do less than 30minues of physically activity a week).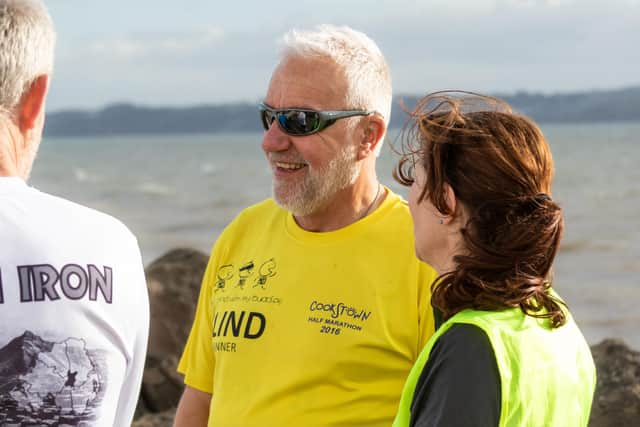 Tony, who was awarded an MBE for services to the visually impaired community, said: "I never imagined I could run with limited vision, never mind develop a passion for the sport. It wasn't always that way, though. I was diagnosed in my late teens with a brain tumour and consequently degenerative sight loss, and I was registered blind at 36.
"I was a police officer at the time, making a positive difference and confident, and all that was taken away. For over 20 years, I believed that life had given up on me. I lost my passion, my drive. I lost myself.
"Sport never came into my mind. So somebody said to me, why don't you come and run Couch to 5k? I thought no, but they wouldn't, they did not, take no for an answer. So I went and did it. And I found me again.
Believing Again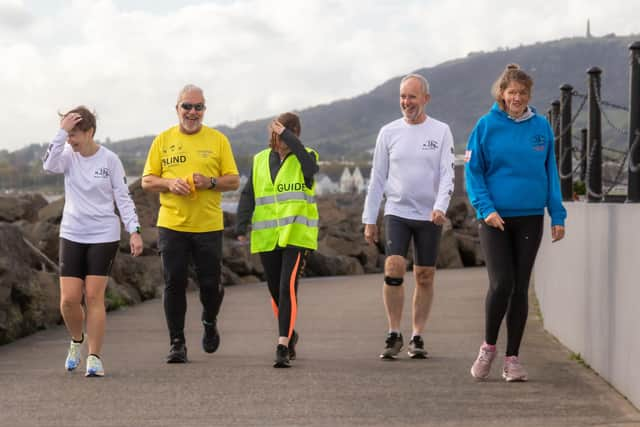 "That first time running, it wasn't easy. I hadn't run for 26 years. But with the support of the people around me, the person next to me, I could do this. That feeling of being able to run for the first time in years. It's indescribable, that emotion. Just going home, floating on air, believing again. Couch to 5k transformed my life."
Tony is founder of 'VI and Guide Runners NI' - providing training and matching guide runners to visually impaired people, inspiring, encouraging and supporting them to take up running, or simply to participate at parkrun - including walking. He was the first visually impaired licensed, qualified running coach on the island and is Parkrun ambassador for visually impaired people in Northern Ireland.
Tony has completed numerous 10ks, half marathons, marathons and ultra -marathons, all whilst tethered to a sighted guide, helping to raise awareness of visual impairment.
RNIB and British Blind Sport have created an accessible online hub to provide information and guidance on accessible sports and activities and how blind and partially sighted people can get involved. This portal includes an interactive quiz (http://www.SeeSportDifferently.org.uk/Quiz ) where people can find out what sports and activities best suit them.
Derrick Errol Evans MBE, widely known as Mr Motivator is supporting the campaign with a series of free audibly accessible home workout videos (SeeSportDifferently.org.uk/HomeWorkouts ). He said: "Exercise is for everyone, regardless of age, weight, ability, or sight loss. Whether it is simple chair exercises or a cardio workout, there is something out there for everyone. And it doesn't have to be challenging or hard work, it can be fun, exciting and energising! The important thing is to get started and do something."
Patricia McKnight, from Belfast, who plays VI (Visually Impaired) tennis, only sought to get active when her children had left home. Patricia said: "It had never occurred to me to try a racket sport. But I heard how it could be adapted and searched for a club near me with the help of RNIB. That first session was so much fun. Starting out with no knowledge or experience, everything was an achievement – even just getting the ball over the net.
"Let's face it. I'll never make Wimbledon, but I'm keeping fit, having fun with friends and I've met people from all around the world."
Received Funding
RNIB and British Blind Sport have received £1m in funding from Sport England to deliver the See Sport Differently initiative.
Vivienne Francis, RNIB's chief social change officer, said: "Unfortunately, our research shows that one in three blind and partially sighted people said there were sports or fitness activities they would like to try but haven't been able to.
"Creating positive wellbeing through fair and equal participation in physical activity and the opportunity to experience sport in an inclusive way is one of the key priorities of this campaign. The accessible online hub that RNIB and British Blind Sport have created will pinpoint the local activities that already exist for people with sight loss to get involved in."
Alaina MacGregor, chief Executive of British Blind Sport, said: "The findings emphasise the importance of raising awareness across the sector and ensuring that people who have lost their sight have access to accessible opportunities that enable them to live healthier and happier lives.
"Our new hub contains a variety of resources, activities and information that can help to remove some of the barriers to participation, provide positive experiences and encourage blind and partially sighted people of all ages and abilities to participate in sport."