The litter pick was organised as part of Asda's involvement in 'The Big Help Out' to mark the King's Coronation, where thousands of organisations across the country are coming together to help out in the local community.
To further support the 'Big Help Out', Asda colleagues across the UK were offered a paid day off to take part in the Great Community Clean Up, bringing communities together to make a difference in their area by arranging litter picks in places such as parks, community centres, beaches and canals.
Asda Dundonald's Community Champion, Sharon McBratney alongside General Store Manager Stacy McMullan and colleague Jenny McBeth took to the store car park picking up three bags of empty bottles to help keep the area around the store clean.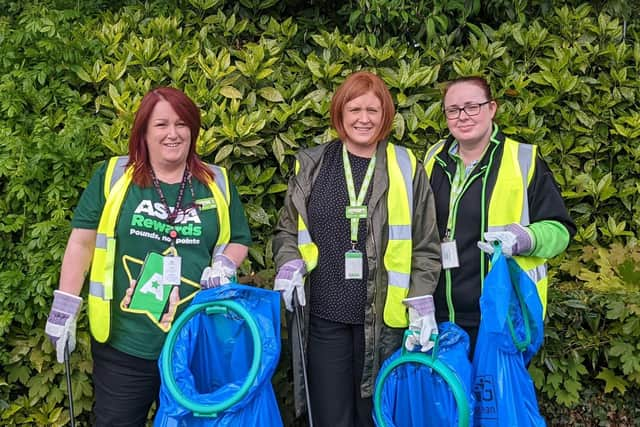 Sharon McBratney, Community Champion at Asda Dundonald said: "We held a vote in store to let customers decide where to host our litter pick and it was great to be able to fulfil what they wanted by organising a litter pick at the green area beside our car park.
"It was fantastic to get other members of our team involved and to do our bit for the local community whilst looking after our environment. It has definitely inspired us to carry out another litter pick in the future."
Details of the 'Big Help Out' events, as well as other local volunteering opportunities, will be advertised on community boards in Asda stores and customers can also download the 'Big Help Out' app to find out more.