Entries to all classes are proving very popular among competitors as the countdown begins to the Lurgan Show 2023 – it is taking place in Lurgan Park on Saturday June 3rd.
Organisers revealed there is a 'slightly revamped' layout but the ever popular Pet Show will be definitely be a major attraction. All are invited to the Pet Show at 2pm which is kindly sponsored by Lurgan Veterinary Clinic and Affinity Veterinary Clinic.
-
-
Of course the traditional funfair will be at Lurgan Park as will numerous trade stands, revealed Lurgan Show committee which is delighted to be sponsoring the Northern Ireland Kidney Research Fund. The charity, founded just five miles from Lurgan, strives to support research into Kidney related disease. There will be an information stand and volunteers in attendance in the Showgrounds.
A much larger number of businesses than previous years will be displaying and selling their products within the Craft Village marquee. Food Heartland traders, all from the local area, will be there.
Lurgan Show annually attracts interest from local and national aspects especially amongst judging and showing sections and the 2023 will be no different. With local amateur radio enthusiasts, the Mid Ulster Amateur Radio Club in attendance, the public will have a chance to interact globally.
A Lurgan Show spokesperson said: "The native and traditional breeds of cattle and sheep are once again proving popular for this year, with Lurgan having hosted classes for many of these breeds for decades ensuring the promotion and thus stabilisation of these breeds. The cattle inter-breed section will again prove to be most competitive with a large number of exhibitors displaying their animals. Sponsored by Woodside Farm, the young handler competition will again be sure to bring forward some new exhibitor talent. Danske Bank are kindly offering sponsorship to the Cattle Section.
"Sheep classes are once again proving to be very popular with at least ten breeds on display and upwards of 400 sheep displayed. Kingarrow Jacobs will kindly be sponsoring the Sheep section along with Diamond Valais Blacknose Sheep, Lornbrook Flock, Ulster Wool Group and Farmline Agricultural Supplies. Traditional wool spinning demonstrations will be happening alongside a great display provided by Ulster Wool Group.
"112 classes are offering a high number of entries within the poultry section and pending the lifting of the Influenza restrictions, Lurgan Show will be hosting one of the first poultry show's of 2023. Lurgan Show, a show which has traditionally held poultry classes and a show which has always had an excellent display of a broad range of poultry and waterfowl classes, will once again pull out all the stops to ensure the section proves popular with showgoers.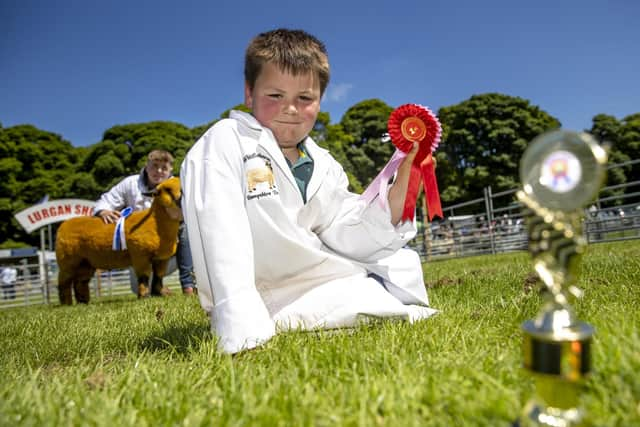 "Lurgan Show equestrian section continues to grow year on year with equestrian section ranging from ponies to horses, with many classes and qualifiers throughout showday. The pony jumping is well worth visiting with all classes being held up on the hill within the Showgrounds. The Carriage Driving and Donkey section are now located centrally within the Showgrounds and all competitors/ exhibitors of driving classes and donkey classes, should enter and leave the showgrounds via the Avenue Road entrance.
"This year, 12 classes are available for entry in the Goat Section, both in Pedigree and Non Pedigree Classes with some silverware up for grabs. Separate showing classes will be held for Pygmy Goats and this section is looking at record entries. The prize fund has kindly been sponsored by The Pygmy Goat Club. Judging in all these classes will commence at 10.15am.
"Home Industries and School exhibits section traditionally attracts over 3,000 entries and is one of the most popular sections on show day. It is great that this section has fully returned for 2023 after the effects of Covid. All will be happening throughout the day in the Home Industries Marquee located centrally within the Showgrounds. Be sure to pop along and have a look.
"A special invitation is extended to vintage and customised vehicle owners to come along on show day and display their vehicle. All such vehicles must enter the showgrounds via the Windsor Avenue entrance.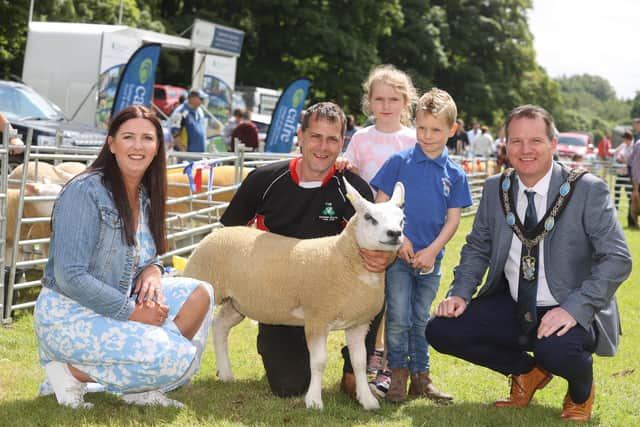 "The entire show committee extend their appreciation to the generosity and sponsorship of the entire community and businesses, this support which enables the successful operation of the Show and provision of prizes to exhibitors in all classes. New sponsors are always welcome.
"The Show is especially indebted to their main Sponsors Armagh City, Banbridge and Craigavon Borough Council. To all sponsors who faithfully support the Show - your financial contribution is indeed very much appreciated," said the Lurgan Show spokesperson.
For those planning on visiting Lurgan Show, admission charges are: Adults £10; Senior Citizen/ YFC Member £5; Under 5 are free. Lurgan Show offers free on-site limited parking accessed via the main show entrance at Avenue Road entrance. Accessible badge holders can access the showgrounds via the pedestrianised Robert Street
entrance or there is limited Accessible parking at Windsor Avenue entrance.
Check out the Show website for further information www.lurganshow.co.uk or follow us on Facebook and Twitter. The Show secretary can be contacted on: [email protected] or telephone 07732172214 after 5pm. So there will be plenty for all the family to choose from to ensure an enjoyable day out!