A fun day was held at the location to mark the completion of the project ahead of the Easter break.
Sunnylands and Woodburn Community Development Group members have been working hard to re-develop and re-design the community garden next to Sunnylands Community Centre.
Supported by funding from Areas at Risk Northlands initiative, the fun day included fruit tree planting (supported by the Woodland Trust Emergency Tree Fund), bird box making, wildflower sowing and activities including interactive outdoor sensory tasks, bouncy castles and inflatable slides.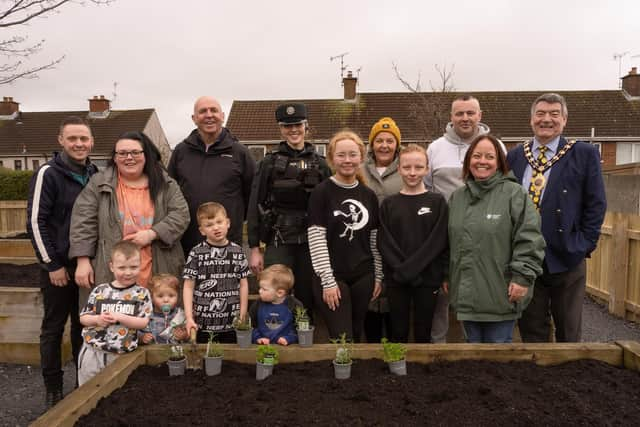 The celebration marked the end of a months of work redeveloping the site with support from the Department for Community's Areas at Risk programme. The group has successfully cleared away all old planting, re-fenced the area and installed new raised beds.
The area will also have benches - including a chatty bench - to encourage local people to stay and enjoy the space.
Wildflower Area
Michael Clarke, chairperson of the group, said "This community garden is our commitment to our community and seeing it progress has been thoroughly enjoyable and rewarding.
"The garden now includes a wildflower area, brand new fruit trees, bird boxes to encourage local wildlife and biodiversity, raised beds for children to plant and look after - as well as community benches for everyone to sit and chat. It will be a real benefit for the whole community, especially as we move into spring."
The Mayor of Mid and East Antrim, Alderman Noel, Williams, joined members of the community to officially unveil the garden.
He said: "A community garden is a space for everyone – a place to work, learn and play together outdoors. At Sunnylands community garden you can grow trees and wildflowers, learn new skills, share what you already know and sit and watch the birds. It is an opportunity to also relax, meet new people and have fun.
"It's a place of potential, and growth from seed to homemade food. It is for the whole community in Sunnylands to use – everyone is welcome!"