Mr Lynch, who lived in Drumgold, Moy and was originally from Pomeroy, died as a result of an accident on May 16 this year.
The beloved husband of Siobhan, dearly loved father of Jayne and Hannah and dear grandfather of Cormac his funeral is to St. John's Church, Moy for 11am Requiem Mass with burial afterwards in adjoining cemetery.
-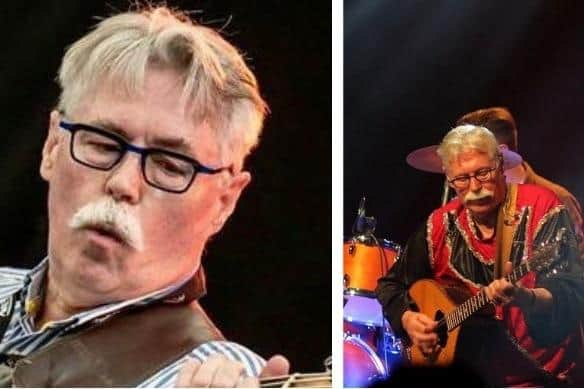 -
Mr Lynch was a highly-respected teacher in Drumcree High School and mentor to many. Tributes have described him as a 'lighthouse of a man' who had 'an encyclopaedic knowledge of music'.
Although Mr Lynch lived in the Moy for many years, he was originally from the Pomeroy and Cookstown areas.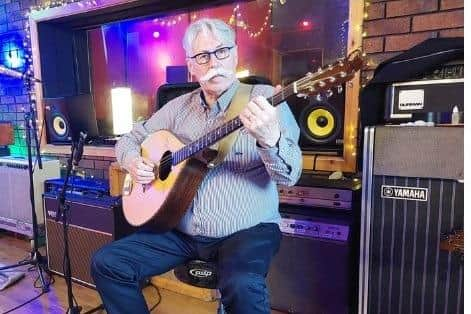 Heartbroken friends and former pupils shared their shock and sorrow at the tragic death of Mr Lynch who has been described as 'a lighthouse of a man'.
Armagh Rhymers led the tributes to Mr Lynch: "Heartbroken doesn't seem to cover how we are feeling today at the sad passing of our esteemed colleague and dear friend Barry Lynch. Barry has been the very fabric of our work in recent years, and it is hard to imagine a world without him in it.
"His encyclopaedic knowledge of music, impeccable style, contagious laugh and of course that glorious moustache, brightened our days. Rhymer Annie June Callaghan referred to him today as a "lighthouse of a man" and we can think of no truer words; a beacon of strength and a shining light in this world.
"The outpouring of love from friends, audiences and colleagues in recent weeks is testament to a man who touched the lives of everyone he met. We join them in sending our heartfelt sympathies to his wife Siobhan, Jayne and Hannah his beloved daughters, wee Cormac the apple of his eye, his siblings and all his family and friends. We are richer for having known him and treasure every moment we had, may he Rest in Peace."
One local woman said: "Barry was the driving force behind the People in Harmony choir between Drumcree College and Portadown College. We were one of the first cross-community choirs and got the chance to sing across Canada. An amazing man, wonderful musician and powerful craic as well."
Mads Craigavon said: "The Committee and members of Moyraverty Arts and Drama Society would like to take this opportunity to offer our heartfelt condolences to the Lynch family circle on the death of Barry Lynch.. Our thoughts and prayers are with you all at this very difficult time.. Barry was a truly top musician and what a character he was. His knowledge of music is second to none. Barry performed in the live band for many shows for the society and he will be missed by so many but certainly never forgotten."
International Celtic rock band 'More Power to Your Elbow' said: "It was and still is a huge shock to the many many people who had the pleasure of playing with, listening to, chatting with and laughing alongside this mighty man of the music world.
"Back a few years ago, Barry took on the role of bass guitarist in our band due to the absence of one of our members. And while his bass guitar playing was of the highest quality he was equally a superb flautist , acoustic guitar player and above all a tremendous buzucki player. Add to that a fabulous voice, then you can clearly see why he was held in such high esteem in the music world.
"However, Barry's greatest attribute to us was Barry the man, the show man,the patter the craic and the banter. His story telling ability abounded and his introduction to a musical piece meant that here was a man with an extraordinary talent and by God he could show it
Project Children said: "We are deeply saddened by the passing of one our strongest advocates, Barry Lynch. Barry was instrumental in his idea to create the Project Children Documentary with Des Henderson and all the team at Alleycats TV and for that, we are forever grateful to you. We are thankful for your unwavering support of Project Children over the years and we will think of you fondly each time we screen the Project Children Documentary. The world has lost a truly wonderful man. We will continue to keep your family in our thoughts and prayers."
One Lurgan musician described Mr Lynch as 'The most vibrant, positive, talented and interesting man I've ever known'.
Another musician said: "I was deeply saddened to hear of the passing of Barry Lynch. Barry held a very special place in my heart, and to me, he was the exact definition of a gentleman. His smile would light up a room; his voice could fill a room with power yet with warmth; and his accompaniment could sweetly blend into a session."
Bardic Theatre said: "We are saddened to learn of the passing of much loved Pomeroy born musician and Bardic actor Barry Lynch. Anyone involved in the local music and Trad scene will know of Barry. We extend our condolonces to his Family and Friends at this time."