The attraction was created at Hazelbank Park, Shore Road, in Newtownabbey, by celebrity gardener Diarmuid Gavin on the site of a disused bowling green.
The 16-metre structure is a three-floor pavilion topped by a crown and provides visitors with a musical performance of dancing topiary and spinning conical trees every 15 minutes.
A planners' report to the local government authority committee notes that the aim is to "create a commemorative garden".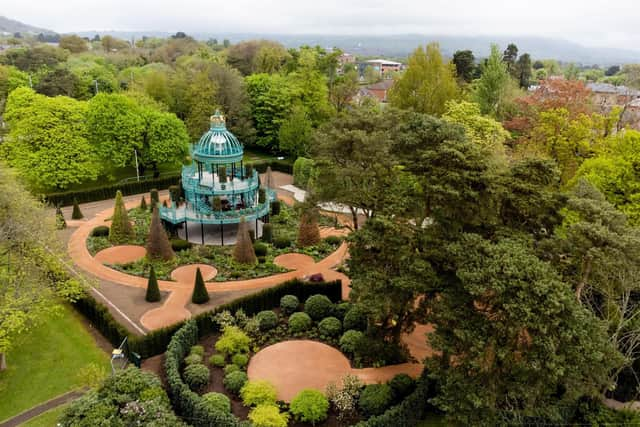 "The development does not remove any of the existing open space, rather it is thought to enhance the existing area of open space by providing an additional public garden. The structure itself mimics and symbolises a royal crown and could be described as 'regal' in its design consisting of a bronze and gold colour palette."
The report states that although the structure is "considerable in height", there are large mature trees which are of a similar height and act as a "screening barrier" from the roadside and the neighbouring properties and is "deemed to be of an acceptable design and scale" with "no significant loss of residential amenity in this area".
Biodiversity Boost
A Preliminary Ecological Appraisal states the creation of the planted garden will provide "a boost in biodiversity for the local area".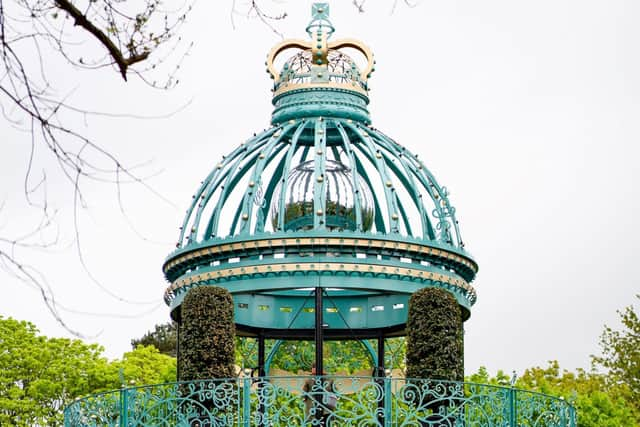 Due to the height of the structure, consultation was carried out with Belfast City Airport which had no objection.
Macedon Alliance Councillor Billy Webb MBE moved that the planning committee accepted the recommendation to approve planning permission, which was seconded by Glengormley DUP Cllr Alison Bennington.
Dunsilly Sinn Fein Cllr Henry Cushinan abstained during a vote. Committee Chair, Threemilewater Ulster Unionist Alderman Fraser Agnew MBE remarked: "I wonder why."
Eight councillors voted in favour with Glengormley Sinn Fein Cllr Rosie Kinnear voting against.
Diarmuid Gavin has said previously about the project: "It has been planned as a garden which makes Antrim and Newtownabbey residents proud and one which attracts visitors from the borough and beyond."
Michelle Weir, Local Democracy Reporter