Legacurry Presbyterian Church congregation goes the extra mile this month to raise money for mission projects
A local church congregation are aiming to put their feet and bikes well into gear this month, as they commit to covering the 6600 miles from Lisburn to the Eastern Cape in South Africa.
Watch more of our videos on Shots!
and live on Freeview channel 276
Visit Shots! now
'Turn Legacurry Miles Into African Smiles' is an initiative by Legacurry Presbyterian Church with the aim of raising funds to help equip a Health Centre in Burkina Faso and to build a Pre-school Nursery in the Eastern Cape, South Africa.
No international travel is required for this challenge. Instead, the children and adults of the congregation are pledging to walk, run or cycle as many miles as they think they can manage during May and, in return, to seek sponsorship from friends and relatives for their efforts.
There is no set distance or financial target per person, just an overall goal of 6600 miles, the distance, as the crow flies, from Legacurry, across Europe, down through Africa to Burkina Faso and on to the Eastern Cape where the pre-School Nursery will be located.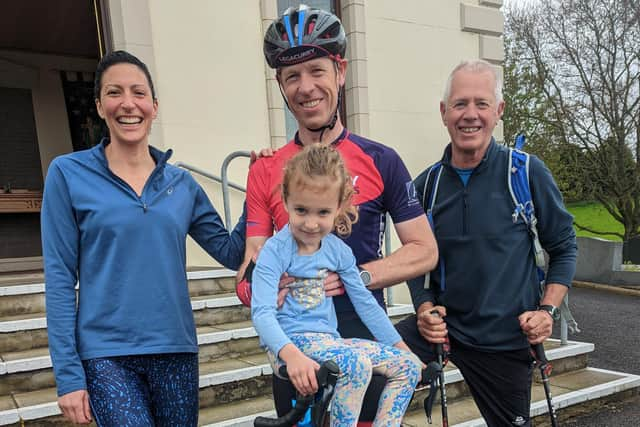 Commenting on the 6600-mile challenge, Stephen Abraham, who had the idea for the initiative, said: "We are planning to send a team out to the Eastern Cape in July to build the Pre-School Nursery and this got us thinking about just how far away the children of that township are from us here on the outskirts of Lisburn.
"'Turn Legacurry Miles Into African Smiles' says exactly what we are aiming to do. By getting out and flexing our muscles throughout May, and racking up the miles in the process, we'll be raising the profile of the very real needs of the people of Burkina Faso and the Eastern Cape and moving closer to our overall fundraising target for the year of £25,000."
The Church fundraising team have a programme of events planned across the year including a Toys For Africa Pay What You Can Toy Swap at the Church Halls on Saturday May 20.
Donations for the toy swap can be left at the church on May 18-19.
To find out more about Legacurry's African Mission Projects and their fundraising activities visit www.legacurry.church.