Mental health service, which provides crisis help to those struggling in the Armagh, Banbridge and Craigavon areas, urgently needs new premises
A vital counselling service, which has helped more than 1,000 people over the past two years, many of whom were in emergency distress, is struggling to find a new home due to spiralling rent prices.
Watch more of our videos on Shots!
and live on Freeview channel 276
Visit Shots! now
Love Life Counselling NI is a non-profit Community Interest Company (CIC), created by families and individuals from the communities in the Armagh, Banbridge and Craigavon areas which have suffered mental health issues.
-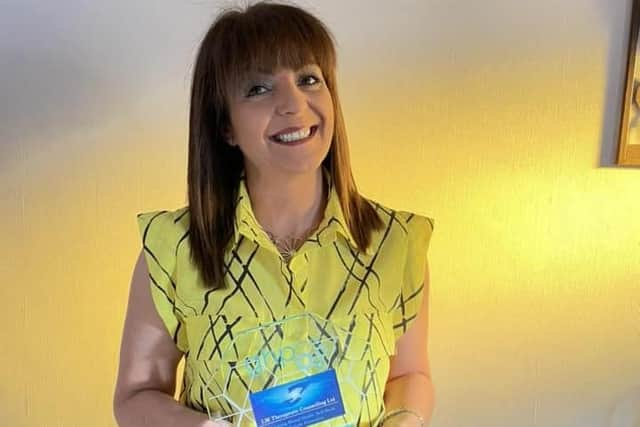 -
Although it was only set up two years ago in 2021, the service was initially dealing with more than 100 people a week suffering from mental distress. With many dealing with bereavement due to the COVID-19 pandemic and many others struggling with bereavement through suicide, Love Life Counselling became a vital part of the community, helping many after personal suicide attempts as well as depression, anxiety, isolation and addiction which left them feeling lost and alone.
However the counselling service has found itself homeless due to spiralling rents and a lack of suitable accommodation with disabled access despite the needs for its services more than doubling. With a very limited budget, this group, which offers its services for free, is struggling to find the right space at the right price to continue working to help those struggling with mental health issues.
Even with Craigavon Hospital on our doorstep, plus the Bluestone Unit, many in the community are struggling to get an appointment in relation to mental health issues.
Before creating the non-profit C.I.C., the group contacted more than 45 agencies in the Armagh, Banbridge and Craigavon areas to evaluate the need for these services and if they would make use of the facility.
A spokesperson for Love Life Counselling NI said: "We had a 100% positive response to the creation of our services from GP Surgeries, community groups, the PSNI, Extern, Women's Aid, Nexus, Start 360, and many others.
"We have been operating voluntarily since July 2021, providing free and quick access to one-to-one Counselling, Crisis Mobile available 9am to 9pm, Monday-Sunday, Training and Support Group services in the Armagh, Banbridge, Craigavon and surrounding areas. These communities have a high percentage of suicides, self-harm, addiction, crime/domestic violence issues and, so far, we have seen an ongoing and increased need for quick access to mental health support following Covid 19 and the current financial struggles.
"We have created and facilitate training events on Suicide and Self-Harm, Positive Mental Health, Self-Esteem, Early Warning Signs, Education and Crime Prevention in our Communities and The Impact of Drug Misuse," said the spokesperson.
"We have weekly support groups consisting of - Walk and Talk, Mindfulness, Health and Nutrition, St Johns CPR, Community Police, etc.
"We now have 8 voluntary committee members and 1 qualified and an award-winning counsellor (Most Supportive Counselling Services in NI GHP Award 2023 and Best Counselling Services UK – Providing Unparalleled Support Global 100 Award 2023) facilitating the services. Counselling, Training and Support Groups are attended to capacity, with positive evaluation feedback received and with new ideas for future events."
A committee spokesperson said: "We had to move from our original premises to allow for better disability access as, unfortunately, these premises were not fulfilling this requirement. We have been searching since the end of June for a rental option that would ideally be easily accessible for the Armagh, Banbridge and Craigavon communities. It must have a ground floor and have space to allow for an administration office, at least one small room too for counselling, toilet facilities and car parking.
"The main element narrowing our choices is rental prices as funding for counselling and core costs, such as rental is not easily obtained within the ABC areas, which we find very surprising as within the Upper Bann area, we have approx. 13 deprived Super Output Area's in the top 20% of the NISRA deprivation measures. Our proposal of services has and will hopefully continue to target all sectors of the community in the Armagh, Banbridge and Craigavon Borough Council areas for men and women, 13 years of age plus, who have been dealing with mental health issues from loneliness to depression and feeling like life is not worth living, and those around them also affected."
If you have any property which might be suitable for this company to use and are able to offer it to them, please contact Love Life Counselling N.I. C.I.C. [email protected] Telephone 07734 224 556 or via Facebook on Love Life Counselling NI
Some of the testimonials by those who have used the service recently include
One person said: "The changes you have helped me enact in my life have been profound. I'm desperately glad to have met you and proud to have brought myself to your door. I feel a huge change in how I approach life and so appreciative of your support and guidance . It's like a snowball that goes upwards instead of my spiral downwards."
Another person said: "Good morning Louisa, that was the first night in months or maybe years that I haven't had night terrors, I know it might sound corny but I feel I've been spiritually awakened. And the first person I thought of was you. I felt really terrible last night I had the worst panic attack, I've been so unwell, but this morning I feel it was the best thing I could have done, thank you so much for guiding me on this path of well being. You are a remarkable person."