Motorbikes connected to Joey Dunlop, Robert Dunlop, Philip McCallen, Tom Herron, Ryan Farquhar, Owen McNally and Frank Kennedy on display at Ulster Transport Museum
A new display of seven motorbikes that were raced by some of Northern Ireland's road racing legends is proving popular with visitors to the Ulster Transport Museum at Cultra.
Watch more of our videos on Shots! 
and live on Freeview channel 276
Visit Shots! now
The museum has acquired the iconic bikes with support from the National Heritage Memorial Fund and the Department for Communities
Originally owned and restored by motorsport enthusiast Ivor Skelton and dating from the 1970s to 2010s, they are now on display in the Ulster Transport Museum as part of its Driven Gallery.
The seven motorbikes are connected to some of the most well-known racers in Northern Irish road history with Joey Dunlops's 1978 Yamaha TZ250E and his brother Robert's 1986 Special Honda RS125RW part of the new display, as well as a Yamaha F1R1 1000cc which was the last bike Philip McCallen won a race on at the Tandragee 100 before retiring.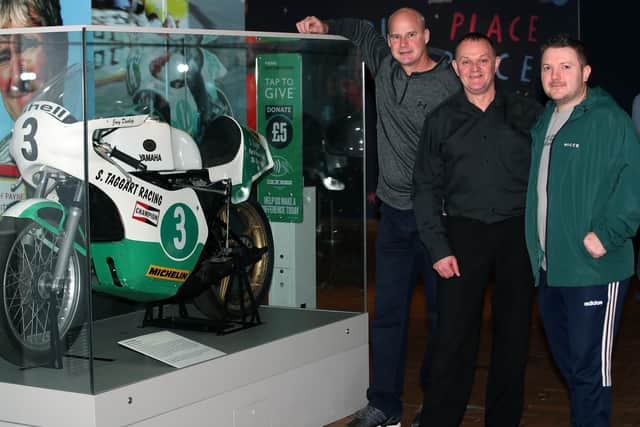 A 1977 Spondon Yamaha TZ250 owned by privateer Tom Herron, a Suzuki TT McAdoo Superbike GSXR 1000 first raced by Ryan Farquhar in the 2003 North West 200, a 1987 RS Honda 125 owned by Owen McNally and a 1976 Maxton Yamaha TZ350 owned by Frank Kennedy also make up the collection.
Philip McCallen said it's a great honour to see his bike among six other legendary bikes in the new museum exhibit.
"I came here to the Ulster Transport Museum when I was a kid to look at machinery and bikes and cars and I never, ever thought that one day, my bike would be in the museum," he said.
"To have this collection acquired for the public is just brilliant for racing and to think for many, many years to come, people will come here to look at my bike and learn about not only my history [as a road racer], but to learn about the history of road racing in this country in general."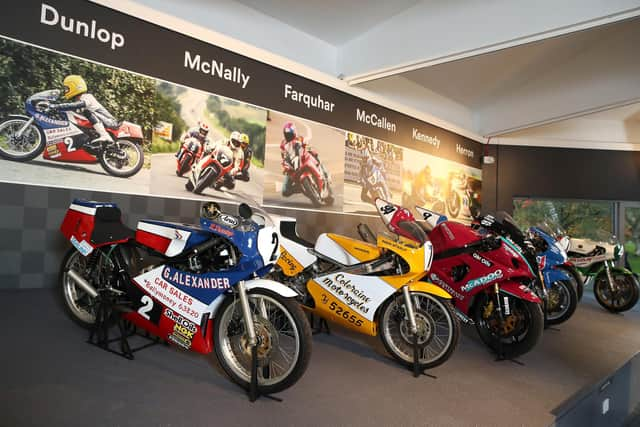 Kathryn Thomson, chief executive of National Museums NI, said the acquisition reaffirms Ulster Transport Museum as a place to celebrate and be inspired by Northern Ireland's heritage.
"We are incredibly grateful to the Skelton family, the Department for Communities and the National Heritage Memorial Fund for supporting us in bringing these iconic motorbikes into our transport collection. Road racing is a significant sport in Northern Ireland, we're one of the few countries in the world that holds races on public roads, yet we did not have any examples of racing motorcycles in our collection. Until now," she said.
"Having these bikes in the Ulster Transport Museum not only allows us to share the achievements of our road racing greats with our visitors and the road racing fraternity near and far but also to connect audiences with our heritage, as the museum is a place to inspire the designers, engineers and adventurers of the future, so they too can leave a positive impact on Northern Ireland."
2022 marked the centenary of the Road Races Act which permitted road racing of both cars and motorcycles to take place across Northern Ireland. The sport remains well-loved to this day, signalling just how important it is to give it a platform at the Ulster Transport Museum.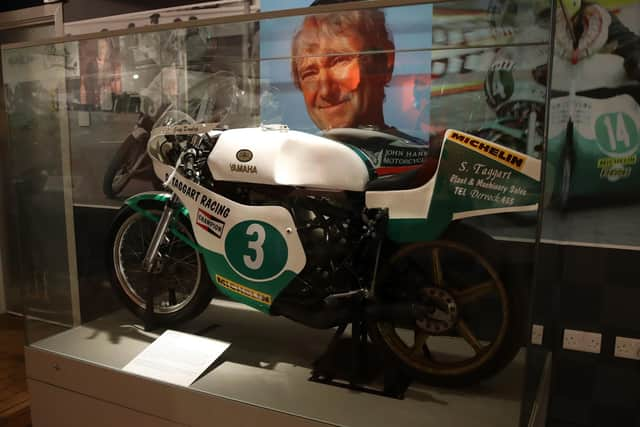 Clare Ablett, Curator of History at National Museums NI, explained that sharing the transport collection and the stories behind it with the public is the most powerful way of connecting audiences to Northern Ireland's past, present and future.
She said, "Whether connected to racing, engineering or endurance, the stories featured in our Driven Gallery are those of ambitious people who made incredible contributions to Northern Ireland and were destined to succeed - people whose stories will inspire our audiences. Road racing is a sport synonymous with Northern Ireland, with local riders, past and present, all household names right across the island of Ireland and even further afield.
"Alongside the racing itself, the sport tells another story too. The story of passion, not only for road racing, but for engineering and innovation, so we're incredibly proud to now include road racing as part of the Ulster Transport Museum experience. The seven bikes were kept to a great standard by Ivor Skelton, and his family after his passing, and we will ensure that they are maintained for the public to enjoy for generations to come."
Eilish McGuinness, chief executive of the National Heritage Memorial Fund, said: "Northern Ireland has a strong tradition of road racing that has become embedded in its cultural heritage, and motorcycle racing retains a passionate following. We are delighted that the National Heritage Memorial Fund has been able to support the acquisition of these seven remarkable motorcycles, each linked to a racing legend, and which will now form part of the permanent collection at the Ulster Transport Museum. There, they will represent the motorcycling racing community locally and internationally and showcase how heritage can come in many different shapes and sizes."