The royal couple attended Hazelbank Park on Wednesday (May 24) for the official opening of the new coronation garden, created to commemorate the coronation on May 6.
Ian Morton, who runs The Beaten Whisk in Glengormley, designed a crown-themed cake, which appeared at the forefront of this week's celebrations.
Speaking to this newspaper, Mr Morton explained: "The whole experience has been surreal. I was contacted by Food NI last Tuesday to ask if I'd be interested baking the cake for the opening ceremony of the coronation garden in Hazelbank, having chatted to their representatives at the recent Balmoral Show.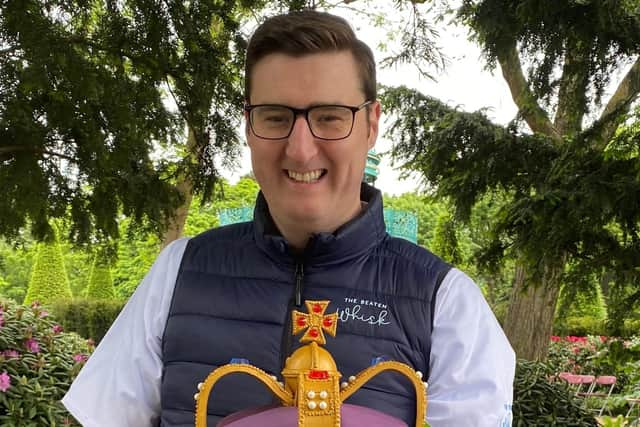 "I went on a site visit on the Wednesday and started to plan the cake. I wasn't told who the special guests were going to be. I thought it may have been members of the royal family, but I didn't think it would have been the King and Queen themselves.
"There were a couple of sleepless nights, because I always want to do my best and create the nicest cake as possible and I knew this cake would be at the centre of the celebrations. I think the nerves would have been worse if I'd known it was going to be Charles and Camilla. It was great to see it come together and be so well received."
Ian, who has been baking for over a decade, set up his own business last November.
He added: "I used a simple victoria sponge, with jam and buttercream in the middle and sugar to make the jewels. The reaction has been really good. Being involved in this event so soon after establishing The Beaten Whisk can only help build the profile up. It was a dream gig to get so soon after deciding to set up my own business.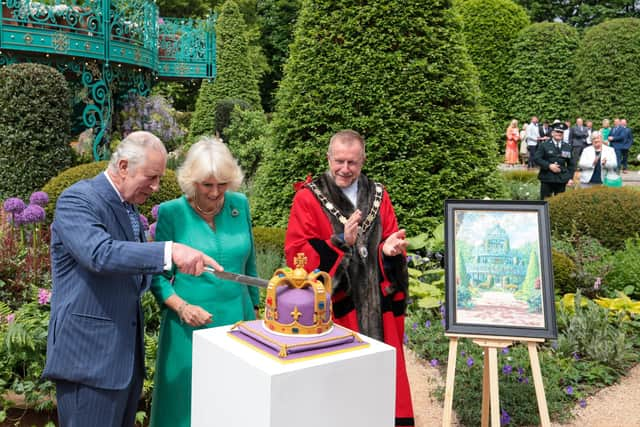 "It was very surreal to see the King cut the cake. All eyes were on it, which was a bit stressful, but everything went so well on the day. The weather was beautiful and the coronation garden provided some fantastic surroundings. It was great to be involved in the special occasion."
For more information, check out The Beaten Whisk Facebook page.