Northern Health and Social Care Trust: Student Excellence Award success for newly qualified nurses
The achievements of three newly qualified nurses, who completed their degrees through the Open University, have been recognised by the Northern Ireland Practice and Education Council (NIPEC) for Nursing and Midwifery.
Watch more of our videos on Shots! 
and live on Freeview channel 276
Visit Shots! now
Shelley Taylor from Larne, who works within the Acute Medicine ward at Antrim Area Hospital, was recently presented with a Student Excellence Award. Aiobhin McElroy and Gemma Harper, both from Ballymena, were highly commended.
Aiobhin is a nurse in the Direct Assessment Centre in Antrim and Gemma is a member of the Endoscopy team.
Shelley's health and social care journey began in 2002 when she first joined the Northern Trust as a Child Health Assistant with the Public Health Nursing team.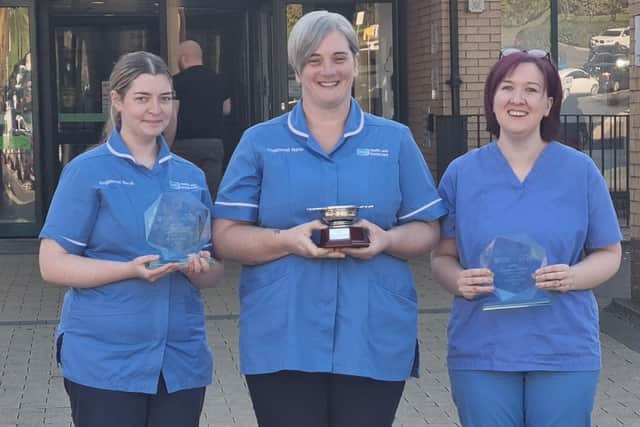 Reflecting on her experience since then, she said: "I initially completed an introductory course with the Open University which gave me a real sense of achievement so I decided to continue my studies.
"The Northern Trust and Open University partnership gave me the opportunity to further my career within healthcare by supporting me to study whilst working.
"My colleagues and the many members of staff I have met along the way have really supported me in my learning, helping me to reach my goals, and I am delighted to have received this recognition.
"Compassion and excellence are among the core values of the Northern Trust, and I have found this translates to staff, students and service users throughout the organisation, and I am now really looking forward to continuing my nursing career within the Trust."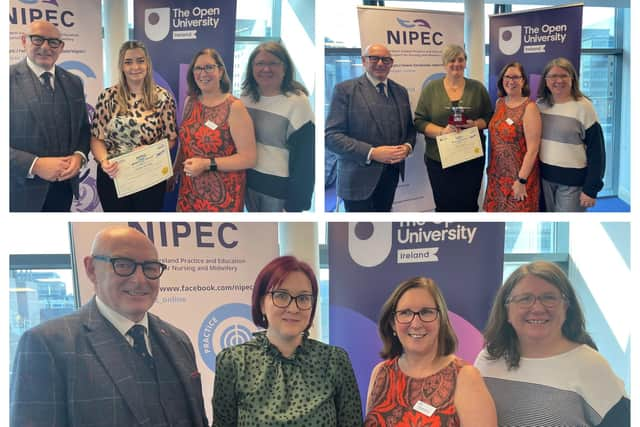 For Aiobhin, starting as a Bank employee set her on the path to success after first planning to study nursing following secondary school: "I applied to do nursing but I didn't pass the interview due to inadequate experience.
"I then got a bank job in treatment rooms and thoroughly enjoyed this but by then I had given up on my dream to become a nurse. I got seconded to work in the new Direct Assessment Unit and I was so nervous to start working in the hospital.
"I had no reason to worry because I instantly felt part of the team and this encouraged me to apply for a permanent Band 3 role. After a few months my manager asked me if I would consider studying nursing through the Open University and although I was apprehensive, I applied and was successful at interview.
"I am delighted to say after four years I passed my degree with First Class honours. I had given up on the idea but with the support of the Northern Trust and the Open University I was able to achieve this.
"I decided to begin my qualified nurse journey where the dream started, in the Direct Assessment Unit, and I am currently in the Preceptorship Programme. I would recommend the Open University degree to anyone who wishes to become a qualified nurse."
Like Aiobhin, a nursing career was a long-held dream for Gemma. "I had my son at a young age, so progressing to university when I left school just wasn't an option for me. I am so grateful to the Northern Trust and the Open University for giving me this opportunity," she said.
After spending 12 years working in private domiciliary care, Gemma joined the Endoscopy departments at Mid-Ulster and Antrim Area hospitals in 2016 as a Health Care Assistant which reignited her passion for nursing.
"I was inspired by my colleagues and they helped me to see potential in myself by encouraging me to apply for the Open University degree
"I enjoy working within Endoscopy - it is a specialised and fast paced service and it is a pleasure to now work as a newly qualified nurse alongside the colleagues who supported me along the way.
"The help I received from the Student Support teams, tutors at the Open University and Northern Trust practice assessors and supervisors was invaluable to me, and they were always on hand whenever I had a query.
"Equally, my Practice Education Facilitator within the Mid Ulster Hospital supported my learning and helped me wherever they could. Having all my placements within the Northern Trust was great for work-life balance, and I found the diverse settings within Medical, Surgical, Community and Renal all offered invaluable training and new skills. Balancing study with a busy family life and work commitments was always a bit of a juggling act but this really helps with prioritising, thinking on your feet and organisation, all skills that will stand me well in my future career in nursing."
Congratulating the three nurses on their success, Suzanne Pullins, Executive Director of Nursing, Midwifery and Allied Health Professionals, said: "As a Trust we are committed to developing our workforce and supporting our staff to reach their full potential.
"These achievements reflects the strength of our partnership with the Open University, and it is very encouraging for us to see Shelley, Aiobhin and Gemma's efforts recognized in this way by NIPEC. We wish them every success as their nursing careers get underway."
Carly Thompson, the Northern Trust's Lead Nurse for Education, said: "Shelley, Aiobhin and Gemma have all worked very hard and we are proud to have supported them throughout their studies."
The statistics were released as part of an interim report compiled following the decision to move all hospital births in the Northern Trust to Antrim Area Hospital.
The interim review of the transformation of acute maternity services in the Northern Trust took place during the period from 17 July to 18 September 2023.