Proposals for £80m mental health hospital in Antrim outlined
Proposals for a new £80m mental health hospital have been outlined as part of a community consultation ahead of the submission of a planning application to Antrim and Newtownabbey Council.
Watch more of our videos on Shots! 
and live on Freeview channel 276
Visit Shots! now
The facility planned for a site at Antrim Hospital, Bush Road, is to be known as the Birch Hill Centre for Mental Health. The proposed 134-bed building will replace the existing Holywell Hospital, in Antrim.
The development will comprise treatment wards, staff and visitor facilities, management and operational spaces, health and well-being facilities, external landscaping and gardens, car parking and servicing facilities.
In a presentation to the Council in December 2021, councillors were told by Northern Health and Social Care Trust officials of a current lack of single bedrooms at Holywell Hospital resulting in "poor observation of patients" and no separate provision for "frail mentally- ill patients", limited access to outdoor space with family visiting, dining and activity space described as "inadequate".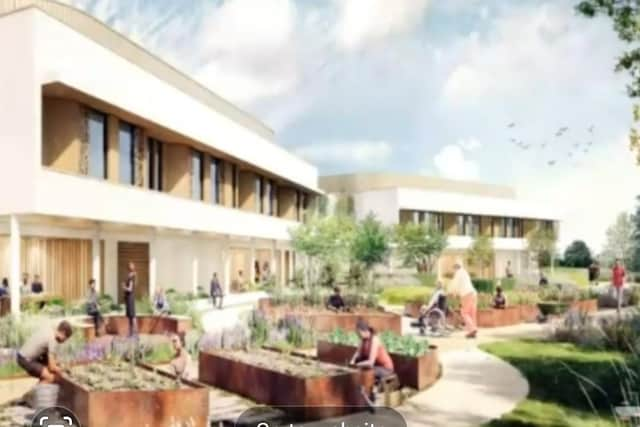 Holywell Hospital was built in 1898 to accommodate 1,000 patients with the three 'Tobernaveen' wards opening in the 1950s. Holywell Hospital has approximately 116 acute in-patient beds.
It is anticipated the Birch Hill Centre for Mental Health will deliver a facility that will "address the failures in existing facilities at Holywell Hospital including lack of single bedrooms, limited access to secure outdoor space, inadequate for family visiting and dining, outdated activity rooms with inadequate space to support structured intervention or provide quiet areas for patients requiring space, inadequate accommodation for staff changing, rest breaks and dining".
Councillors were also told the Ross Thomson Unit at Causeway Hospital in Coleraine was "not designed for mental health delivery" with dormitories and single bedrooms. It is an 18-bedded acute admission ward to provide care and treatment in an acute psychiatric environment.
No Decision
No decision has been taken yet on the future of the Holywell Hospital premises which accommodate up to 400 staff members. The Trust is currently undertaking a pre-application community consultation to hear views on the proposals.
A low-rise building will provide ground floor accommodation for all patients for "direct access to safe outdoor space". The first floor area will be designated for 'staff only'. Each patient will have a private bedroom and en-suite with these arranged along internal corridors and views towards the ward garden.
The proposals say that the design "maximises patient and staff safety". The Trust board was told at last month's meeting patients should "have the ability to lock their bedroom door from the inside as long as staff always have an override facility".
Facilities such as a café and "family-friendly visiting areas" with gardens that can be used by patients to meet relatives and friends, have been described as "an important part of the recovery journey", proposals state.
The new centre is scheduled for handover to the Trust in 2027.
The Northern Trust commented: "Northern Ireland has the highest prevalence of mental health problems in the UK, stemming from both the legacy of the Troubles and a range of wider socio-economic factors.
"Existing Trust mental health provision at Holywell Hospital and Causeway Hospital (Ross Thomson Unit) have served the Trust well. However, these buildings no longer support the delivery of excellent mental health care and in order to enhance patient care their services will be relocated."
Michelle Weir, Local Democracy Reporter