Sarah Callan Facialist was awarded the Mobile / Home-based Business of the Year ahead of fellow businesses from all over Northern Ireland.
"The competition was very high this year, and I am honoured and grateful to be recognized as the best in this category," said Sarah.
"When my name was called out I was absolutely buzzing, both myself and my youngest daughter Sienna took to the red carpet and went onto the stage to collect with a stunning award with cheers of excitement, a real moment in time and an experience for Sienna as well.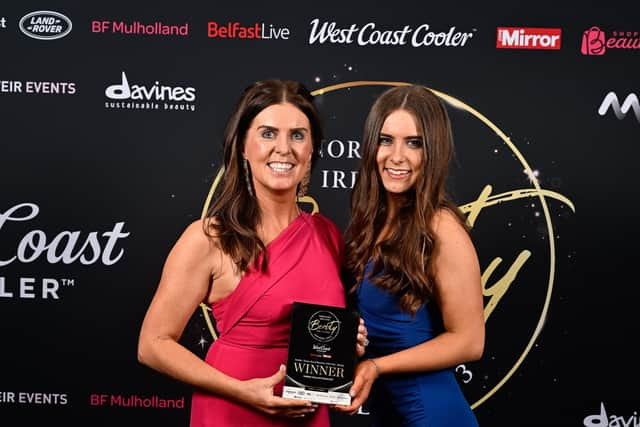 "It has took a few days to sink in, and I am also still receiving lovely messages and gifts. I am so passionate about what I deliver to all my clients and this has made it all worthwhile and has given me an extra push to keep striving upwards and being the best I can be."
Sarah, who has many years experience in the beauty business, said she wanted to come away from the high street and decided to rebrand her second business at home, "nestled in the countryside, giving that relaxed wellness feel in a private one-to-one environment".
"Established in 2018, the facial clinic is an elite 'dermalogica circle silver account'.
"I have worked alongside this company for 20 years, offering skincare products for retailing and advanced facial treatments. These include the most sought-after treatment at the minute, PROmicro-needling along with advanced chemical peels, Caci non-surgical facelifts and LED light therapy.
"I also have a new menu launched this year for holistic therapies that I have combined with facial treatments.
"Skin health is my ultimate goal, working only with the most natural but advanced and effective products on the market, and of course my expert hands that make all the magic happen!" Sarah added.
Reflecting on the awards, Sarah said she would like to thank "my beautiful family Michael, Zara and Sienna for all their support, my good friend Janine and all my wonderful clients".
She also extended congratulations to Roberta Mechan receiving outstanding contributions to the industry winner.
"My career began many years ago training at this prestigious college and receiving my CIDESCO international certifications, I was then offered a job at the Belfast Roberta Mechan clinic, this carved my professionalism I have instilled in me today," Sarah added.
Sarah is hosting a free skin event as a token of thanks for winning the award. The 'Skinology event' – on Tuesday, May 30 – with Sarah Armstrong at dermalogica is a 'how to use your skincare at home' workshop. It is a free event but booking is essential. Go to www.sarahcallanfacialist.co.uk
Judged by an independent panel of experts, the NI Beauty Excellence Awards 2023 saw a record number of entries from homegrown salons, clinics, spas, specialists and products across Northern Ireland.
Event organiser and owner of Weir Events, Sarah Weir commented; "It has been a privilege to bring back these wonderful awards again which just keep getting bigger and better. They are an opportunity to recognise and showcase the diverse range of talent and innovation of the ever-growing beauty industry in Northern Ireland."