Whitehead Railway Museum was the recent setting for scenes from 'Freud's Last Session'.
Set on the eve of World War Two in 1939, the film sees Sigmund Freud (Sir Anthony) invite Belfast-born Christian author CS Lewis for a debate on the existence of God. Having taken up the invite, CS Lewis, played by Goode, was present at Whitehead - suitably dressed as a rural Oxfordshire station - in order to catch the train to see Freud.
Also present were many extras, including a platoon of soldiers, a class of primary school children dressed for evacuation, and some of their 'mothers' to see them off.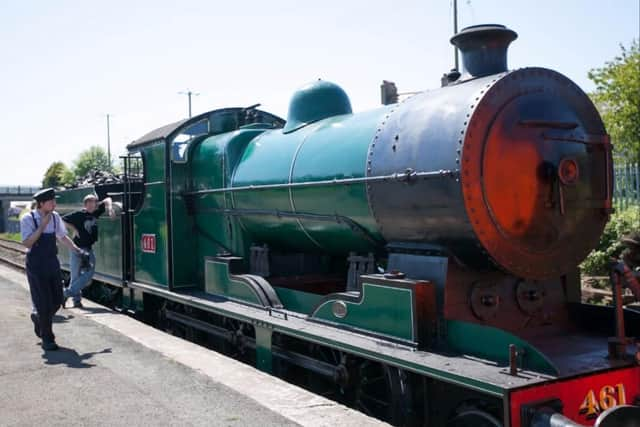 The station building, which normally houses Platform 3 restaurant, underwent a makeover so that it looked like a period 1930s English railway halt.
The Railway Preservation Society of Ireland (RPSI) laid on a train of 100-year-old steam engine No. 461, which is usually on display at the museum, plus three heritage carriages and a luggage van.
The locomotive was out of steam but fitted with a steam machine, while the RPSI's train rides steam engine No. 3BG was on hand to shunt the train up and down the siding as required. The train had to be filmed in three main positions:
Sitting stationary at the platform whilst passengers / evacuees embarked and disembarked;
Departing with CS Lewis aboard (in daylight);
Arriving back with CS Lewis having met Freud (in the dark).
The weather was bright and sunny for the daylight shoots, and calm for the filming after darkness fell. The work was completed by 10.30pm and a cheer went up from the cast and crew because this was the final sequence in the shoot.
Lisa Adair, RPSI general manager, said: "We are regularly in demand from film-makers because we can provide steam engines and vintage carriages. We are always pleased to be able to assist.
"We are told that Freud's Last Session will be released around December, so we look forward to seeing the finished product in the cinema."
Whitehead Railway Museum is open every Thursday, Friday and Saturday from 10am to 4pm (last entry 2.30pm) and tickets can be booked at the Visit Belfast Welcome Centre.