Sheela Lewis was presented with the inaugural 'Race Official of the Year' award at the Royal Yachting Association Northern Ireland's annual presentation ceremony.
The delighted Whitehead resident, who also enjoys racing and coaching, was among eight unsung heroes of the sport recognised at the event, supported by Whitenoise, at the Crowne Plaza in Belfast.
She was nominated in the award category by Belfast Lough Sailability, which provides opportunities for people living with disability/disadvantage to sail, boat and kayak.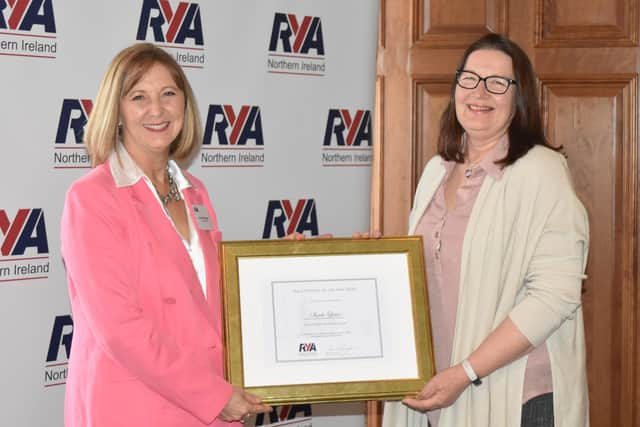 Sheela told the Carrick Times: "I am delighted to be the first recipient of this award for supporting Belfast Lough Sailability. I was Course RO in 2015, then at another event in 2017, and last year I was Fleet RO for all the classes in the event. I am always keen to support them host these very special occasions.
"Sailing offers many people with disabilities the opportunity to be independent and competitive on the water which is fantastic. I feel privileged to play my small part in making this happen and humbled by the club's nomination."
A member of County Antrim Yacht Club (CAYC) since 1988, Sheela added: "In that year I assisted at the European Scorpion event. I was also inspired by my dad who was the sailing secretary and captain of Carrickfergus Sailing Club.
"I supported events at the club and continued to race competitively. I was also encouraged to consider becoming a Regional Race officer by Robin Gray, the RYANI Reginal Race coordinator. The requirements by Class Associations demanded a club have a qualified race officer to manage their regional and national events. CAYC is a small club, but we have been able to host Topper, ILCA, 420, RS and Flying Fifteen events over recent years to a high standard."
Dinghy Event
Sheela continued her development through a Dinghy Event Safety seminar in 2012 and a Mark Laying course the following year before going on to become a race officer in 2014.
"By this time I had supported approximately four to five events per season at different clubs building up my event CV. This has continued and by 2018, I undertook the National Race Officer course and exam. I qualified as a NRO in January 2019 and have renewed this for a further four years to 2027.
"I support other clubs in Northern Ireland host their race events that require a NRO. It can be challenging as some events such as RYANI Youth Championships or Irish Sailing Youth Championships have multiple classes and large numbers. Equally, regional or national events in certain classes can have upwards of 70+ dinghies.
"I am very fortunate having friends and club volunteers who enjoy these events and work as a team with me to ensure all aspects of the race management are top class for the competitors."
This was the first year the sailing governing body was able to hold the awards since 2019 due to Covid and with more than 19 nominations for the eight categories, the standard was very high.
Greg Yarnall, RYA Northern Ireland's chief operating officer, commented: "I was very proud to welcome all the nominees, their nominators and other people from the sport to the annual awards. It is a fantastic privilege to be recognising some of the great and good of the sport at the 2023 annual awards.
"We recently launched the 'Navigating the Future' strategy for RYA Northern Ireland. One of its strategic foundations is 'Celebrating the Sport' and the annual awards provided a perfect launch pad to enable us to do this. Congratulations to all of the very deserving norminees and winners."
Celebrate Achievements
Sheela was presented with her award by Susan McKnight, chair of RYA Northern Ireland, who said: "I am delighted that we were once again able to host the RYANI annual awards. It was great to be able to recognise and celebrate the achievements and commitment all our nominees who have all made such a contribution to our sport."
A post of the CAYC Facebook page read: "Race Officer of the Year 2023! A very well deserved accolade for Sheela, with particular recognition for her support for the President's Cup over several years and her contribution to sailing nationally. Congratulations Sheela!"
BLS stated: "Congratulations to Sheela Lewis on being awarded the Race Official Award at last night's RYANI awards evening. BLS were delighted to have nominated Sheela."
Meanwhile, CAYC congratulated Calum Pollard for being nominated for the RYANI Young Sailor of the Year 2023 award at the event. Explaining the club member had made the shortlist, CAYC added: "He was also a panellist in the 'Performance Panel' and spoke fantastically about his experiences and goals. Well done, Calum!"
The full list of RYA Northern Ireland winners and categories was as follows:
Chair's Award nomination – Graham Chambers, Killyleagh Yacht Club;
Race Official of the year - Sheela Lewis, County Antrim Yacht Club
Volunteer of the Year - Sam Rutherford, Holywood Yacht Club
Instructor of the Year - Sarah Cushley, Strangford Lough Yacht Club
Club Race Coach of the year - Cody Halliday, Strangford Lough Yacht Club
Young Powerboater of the Year - Dan Cooke, Strangford Lough Yacht Club
Young Volunteer of the Year - Max Robinson, Strangford Lough Yacht Club
Young Sailor of the year - Bobby Driscoll, Royal North of Ireland Yacht Club