School workers forced to take second jobs and use food banks says union representatives as members strike for better pay
Support workers in schools across Lurgan, Portadown, Craigavon and NI are being forced to take a second job and use food banks to survive say union representatives as they took part in strike action.
Watch more of our videos on Shots! 
and live on Freeview channel 276
Visit Shots! now
Thousands of school staff held a day-long strike across Northern Ireland over pay with unions including UNISON, Unite, NIPSA and GMB all with members taking industrial action.
-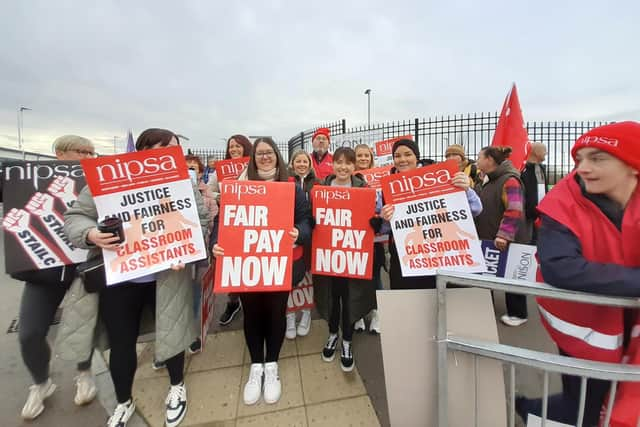 -
Workers including cleaners, catering staff, caretakers, classroom assistants, administrators and technicians were on the picket lines at hundreds of schools across the country.
Unison representative at Lismore College in Craigavon, Noreen Halfpenny, said many of her members were out on strike as 'they've had enough'. She revealed that many have had to take on a second job to survive.
"It's come to the stage where we don't have a choice anymore. We have given all our goodwill out. It's about time the Education Authority honoured what they promised us back in 2019. It is to the detriment of the pupils in the school.
"We love our kids here. We will do anything for our kids here. But there has to be a stop. Our members are scraping the barrel. We have members here going to food banks. They are finding it so hard at the minute. A lot of them are one-parent families. A lot of them are the only bread-winners in the house and this is making a big impact on them.
"They are finding it hard with the increase in gas and electric, especially coming up to Christmas. We don't know if some of our kids are going to have to get food donated, whether they are going to have to get presents donated for their kids.
"We are asking, please make this agreement so that we can move on, get a pay rise and get the proper pay grading we are entitled to," said Noreen.
Shauna Lynas, who works in Lismore College and is a member of NIPSA, said: "From 2019 we have been waiting on our pay grading to be sorted so it's just not on anymore. There's a lot of us have to work two jobs now to make ends meet. We don't want to be standing here. We want to be in our places of work. We want to be helping our students. Enough is enough.
"I am working two jobs at the minute to make ends meet and Christmas is just around the corner. Nobody can afford the luxuries we would have had years ago. We don't have the option to do overtime in schools."
Caitriona Connolly added: "The cost of living is going up but our wages aren't. Enough is enough."
The workers are taking action over the Education Authority's 'failure to update the grading structure, which UNISON says must be changed to recognise the roles and responsibilities of staff so they're paid fairly'. A spokesperson for UNISON NI said it is calling for an overhaul as swiftly as possible.
UNISON Northern Ireland head of bargaining Anne Speed said: "Staff are still not being paid fairly for their work because of the delays in sorting out this mess. Reform of the pay structure in schools is long overdue. This strike will send a strong message that it must be addressed without further delay. The Department for Education in Northern Ireland can't continue to wring its hands and do nothing. Officials must allow the Education Authority to begin talks to settle this dispute."
Department of Education Permanent Secretary, Dr Mark Browne, said the strike will 'undoubtedly cause significant disruption to services right across the education sector and have a major impact on parents and pupils, including our most vulnerable children and young people'.
"This is particularly disappointing given that on 1 November 2023 the NJC Pay award, which covers non-teaching staff in Northern Ireland, was agreed for 2023-24. This award increases each pay point on the NJC scale by £1,925 or a minimum of 3.88% and will be backdated to 1 April 2023. The average increase for non-teaching staff in Northern Ireland is expected to be 8.1%. The pay award means an employee on the lowest pay point in April 2021 will have received an increase in their pay of £4,033 (22.0%) over the two years to April 2023 (pro-rata for part-time employees)." Approval has been provided to the Education Authority to allow the award to be implemented as soon as possible, said a spokesperson for DENI.