Made possible by money raised by National Lottery players, the Hilden Mill School project will transform the disused building into a tearoom and childcare facilities for families in the local area with the council working in partnership with The Resurgam Trust, which will then lease the building.
The school dates back to 1913 and was built by the Barbour family to educate mill employees and their families. Lisburn & Castlereagh City Council recognised the level of community interest and support there was to restore the building and has been working hard to make that vision a reality. It commissioned a feasibility study into the potential usage of the school and then purchased the building and land from the Education Authority in 2016.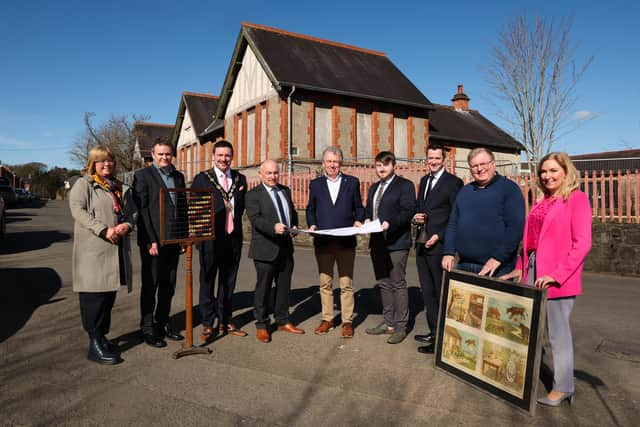 The Resurgam Trust was successful in its bid to become the Council's development partner in 2018 and has, in consultation with Hilden Community Association, developed plans to bring the building back into use, bringing both economic and social benefits to the area. One of its proposals is to develop an authentic kitchen garden in the grounds which will provide produce for the tearoom and feature bee-friendly planting, bird boxes and insect holes.
By its third year in operation, it is anticipated the Hilden Mill School project will provide up to 19 full and part-time jobs in the childcare facility and tearoom. The council will also support employment in the construction industry while the building is being restored and refurbished.
Councillor Aaron McIntyre, Chair of the council's Leisure & Community Development Committee explained: "We understand how historically significant the school is and how important its architecture is to local people. At the moment, the windows are boarded up and the grounds are overgrown – but that is all set to change with this grant from The National Lottery Heritage Fund towards the overall refurbishment.
"The council is committed to giving this wonderful building a new lease of life – and through planned childcare facilities, restore its role as a place of learning and play.
"We envisage it as a commercially-viable enterprise, restored in a sympathetic way, where families can come to drop off little ones and take time to enjoy the surroundings in a specially designed tearoom. The building itself tells the story of bygone days when linen was a key industry here, employing more than 40% of Northern Ireland's working population, and it's important to be able to share that history and heritage with new generations."
Adrian Bird, Director, The Resurgam Trust said: "I am delighted to learn that the bid has been successful: credit must go to the Hilden Community Association for their forward thinking and vision for the school.
"When the refurbishment is complete, this listed building with its rich history will again become the focal point for community-based activities."
Work on the project is due to begin in the coming months with a planned completion date of mid-2024.