Funding secured to help create 'community hub' at Ballyclare's Dixon Park
Exciting plans have been announced by Ballyclare Comrades today (Wednesday) for the development of the club's Dixon Park stadium.
Watch more of our videos on Shots!
and live on Freeview channel 276
Visit Shots! now
The south Antrim club has secured funding to install a new artificial pitch at their home ground.
It is understood the project will cost around £650,000, with £396,000 coming from the Irish Football Association/Department for Culture, Media and Sport Grassroots Facility Fund, £132,000 from Antrim and Newtownabbey Borough Council and the remainder from a loan of £120,000 taken out by the club.
The club, formed in 1919 by soldiers returning from World War I, has called Dixon Park home since 1936.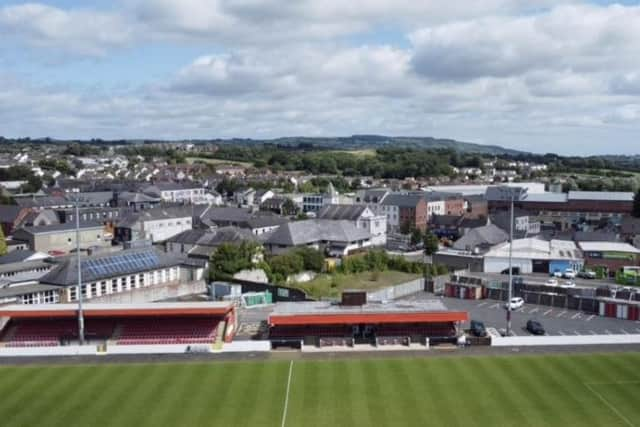 The stadium can accommodate 2,398 spectators. Of this, covered and seated options account for 538, while an additional six covered bays are allocated for disabled spectators.
A spokesperson for the club explained: "In recent years the club has transformed from a traditional men's club to a gender equal, community-based club.
"Opportunities for boys and girls start at an early age with fun football and progressively moves with age to focus on organised and individual development.
"Furthermore, the popularity of football as a female sport has seen an unprecedented growth recently and fortunately one of our previous managers, Paul Harbinson, had the foresight to initiate the girls' section a few years ago.
"All the while, the club has been open to anyone. These additional programs support the ethos of the Grassroots Facility Fund."
Ballyclare Comrades currently field one men's senior side in the Playr Fit NIFL Championship, one U18 men's team and one U21 men's side, 14 boys' academy teams from age 6-16, caters for players aged 5-6 in the junior development centre, two senior women's teams (firsts and reserves) and 22 teams for girls aged 6-16.
Across the club there are over 500 players and almost 100 volunteer coaches and administrators.
With so many players linked to the club, the use of a grass pitch at Dixon Park has thrown up a number of challenges.
The club spokesperson stated: "Integration of the cohort has been severely limited by availability of the grass pitch.
"This is primarily reserved for competitive Championship and cup football for the men's senior team in the period mid-July until the end of May, and the club has to rent training facilities for the men's senior team elsewhere.
"The women's senior teams and indeed the vast majority of the young boys' and girls' teams have to find alternative facilities for training and competition, all over Northern Ireland, every week.
"The grass pitch is rejuvenated during the other 11/12 weeks, making it unavailable for events such as summer tournaments, fun coaching sessions and community events."
Outlining what the process involves, the spokesperson continued: "The club started to plan for an artificial pitch back in 2014.
"Since then we've invested money with consultants and past and present members of the committee have put in considerable effort on developing business plans to suit possible funding opportunities.
"The IFA/DCMS Grassroots Fund has been operating for several years, but this is the first time that Northern Ireland Football League affiliated clubs, like ourselves, have been eligible to apply.
"We have to go through the legal processes first, but that should be a formality. Then we have to get our professional consultants together and set out a specification that'll be put out to prospective contractors for tender.
"Once we select a contractor we can then look at a schedule. The construction process itself will start with excavation of the current pitch and then there are various foundation layers and drainage system to install.
"The final part is to lay the playing carpet itself. The whole process should take around five months. Of course, it presents a massive logistical exercise for us.
"We'll have to work with the people at NIFL to see if we can swap some of our home games, or find an alternative venue. We've accommodated other clubs in the past, so hopefully now they can reciprocate."
As well as proposals to develop the playing surface, the Comrades also have ambitious plans for other facilities at Dixon Park.
The spokesperson said: "This project will usher in a new era at BCFC and, in anticipation of its realization, we've been developing plans for a new larger clubhouse that will cater for, and maximise, the benefits of the added pitch activity.
"At the same time, we want to expand our outreach activity. In recent years we have provided an increased number of opportunities for people of all ages and genders to participate in our activities.
"Notably, we've organised a mental health event with the support of multiple agencies and have diligently facilitated various community development programmes, enriching the lives of those in the vicinity."
Robert Fleck, who led the bid and directs the club's business activities explained: "Our vision doesn't end here. We want to build an enlarged, two-storey, clubhouse that will also act as a community, health and wellbeing hub.
"This could provide valuable support for the physical, social, and psychological well-being of many residents and serve as a catalyst for the holistic development of individuals within the community.
"In conjunction with Antrim and Newtownabbey Council, we've worked with consultants, Third Sector Connect, to analyse the needs and develop a complete business plan.
"Our next step is to obtain planning permission so that we can be ready for any funding opportunities that arise. Hopefully these projects will help to revitalise the town centre and breathe new life into the local community."
Jamesy Kirk, Club Chairman, added: "This isn't just a monumental day for the club, but a great day for the people of Ballyclare, for as long as I remember the town's been crying out for a facility like this and we're happy to be able to provide it after years of trying.
"The club has grown substantially and this will help us grow even more. Ballyclare and the surrounding villages continue to grow and we must be capable of expanding accordingly."