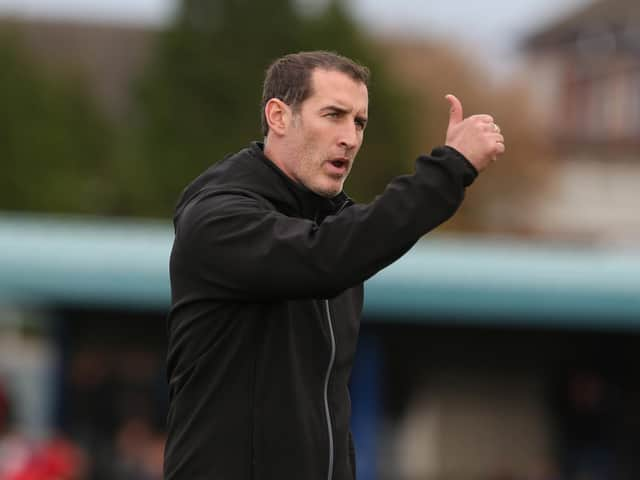 Given his experience in the housing market Kenny Bruce is all too aware of this.
A lot has been made of his takeover of Larne Football Club some two-and-a-half years ago.
Success soon followed on the pitch as the first team, under the guidance of Tiernan Lynch, finally made their return to top-flight football this season, their first since 2008, as they swept all aside in a surge to the Championship title.
They continued to build with ground redevelopment and strengthening of the first-team squad, but it doesn't stop there.
One of the key elements for everyone is building links with the community and developing the next generation of footballers from the town.
Former Glentoran and Carrick Rangers boss Gary Haveron took on the role as Larne FC Academy Manager last year following Niall Curneen's move to General Manager at Inver Park.
Haveron, a native of the town, is keen to build on the great work already done by his predecessor.
"Niall was excellent and did some fantastic things over last year, no question Kenny recognised the work he was doing and took him over to the senior side of the club," he said.
"He built a really solid foundation for the Academy.
"It's come along way in a short space of time, you only have to look at the influx of new players and growth within the academy, going from just over 200 to nearly 400 players in the past 18 months.
"The emergence of the girls' side of the club - and Larne now having the pull to attract some fantastic young players from outside the Larne/East Antrim area.
"There's probably two strands within the Academy - the community side in Inspire to Aspire, football is for everybody and the community plays a massive part in what we're trying to do at this club.
"But there's also the other end and trying to produce players good enough to play in Larne's first team, or good enough to move across to England. We want to produce home grown players who have come through our Academy.
"The owner as well as first-team manager have been massive advocates of the academy and producing players that helps makes our first-team model (full-time football) self-sustainable.
"Development isn't an overnight success story, it takes time and education to develop our coaches to produce players in the mould Tiernan requires to play the Larne way.
"To get players to the technical and tactical levels to play that style we have, we doubled the contact time for our academy teams, training four times a week as well as matches on a Saturday, I think it shows an unparalleled level of commitment from Larne FC to ensure our players have the best environment to maximise their potential."
Gary has been delighted to see the buy-in from everyone at the club for the Academy, and in particular the first-team coaches and players.
"Tiernan's son and first-team coach Tim McCann's two sons all play for Larne Academy and both attend training nights on a regular basis which is fantastic for kids at the club having a first- team manager and coach that is so visible and involved with the academy," he said.
"Tiernan has also - alongside our first -eam players involved in our emerging talent programme - an after-schools programme running from 4:30-6pm every Tuesday and Thursday for our more advanced players.
"We run buses for the kids outside of the town to ease pressure on parents and allow them to avail of advanced coaching sessions that myself and Tiernan design and deliver alongside our first-team players who have shown a desire to get involved in coaching .
Marty Donnelly, Albert Watson and Lee Lynch are all A Licence coaches as well as other players such as Fuad Sule, John Herron, Davy McDaid and club captain Jeff Hughes.
"Not many clubs have two Pro Licence coaches and Irish League first-team players delivering to their academies but it shows the level of commitment again to build a bond between the senior club and academy and create a fantastic culture for our young players."
Haveron is clearly thriving in his role with his home-town club, but he admitted there are parts of the senior game he does miss having been involved in it for so long.
"Anybody who has been involved in senior football for as long as I have will tell you they miss the dressing room and banter you have with the players," he said.
"They are special times as a player and I was lucky enough to meet some fantastic people through football.
"As a manager the buzz of getting a positive result and working with a group of lads that you truly believe in and achieving success with is equally rewarding.
"Yes, there's extra pressure and the buck stops with the manager, but for me management is a privilege and I worked as hard as I could to bring success to a club.
"Even while managing other Irish League clubs though I was a volunteer coach alongside my brother-in-law Stuart Pike with Larne Youth , as my son and nephew played for the same team.
"I've also been a sports development officer for 15-plus years so helping develop and encourage young people to have a lifelong involvement in sport/football gives me a great sense of satisfaction, and the fact it's with Larne kids whose parents I went to school with or know well from being from a small town, I have that extra incentive to see them succeed and get as much out of the game as it has given me.
"I think with the culture and environment we are trying to create at Larne, from our firststo our academy teams, and if we all work as hard as we can to support one another, then I think success won't far away for the first team, and I believe we have the facilities, resources and expertise within our academy to produce players for full-time football."