Rory McIlroy in 'good place' for Masters bid after 'breakthrough'
A relaxed Rory McIlroy believes he has all the ingredients to win the Masters and complete a career grand slam after shedding some scar tissue from previous failures.​
Watch more of our videos on Shots!
and live on Freeview channel 276
Visit Shots! now
Since winning the Open Championship in 2014, McIlroy has had eight attempts to win a green jacket and join Gene Sarazen, Ben Hogan, Gary Player, Jack Nicklaus and Tiger Woods in having won all four major titles.
His best finish of second came last year thanks to a stunning closing 64 which included an eagle and six birdies, the last coming from a greenside bunker on the 18th and prompting an exuberant celebration.
And while he concedes he started too far behind eventual winner Scottie Scheffler to be truly in contention, McIlroy feels that round proved he has what it takes to claim a fifth major title at Augusta National and a first since the 2014 US PGA.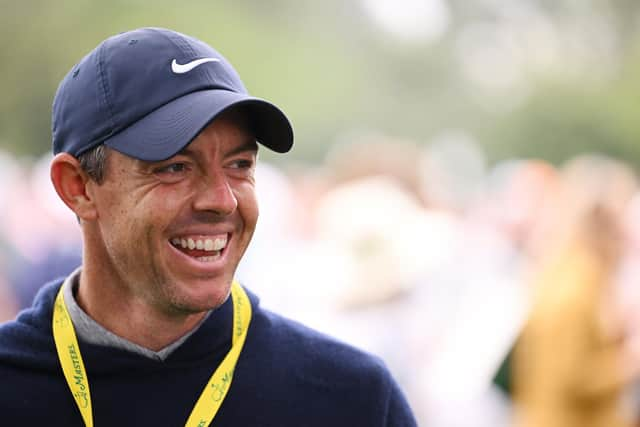 McIlroy, who famously held a four-shot lead after 54 holes in 2011 only to collapse to a closing 80, said: "I think you have to go through everything.
"Not every experience is going to be a good experience. I think that would lead to a pretty boring life. You have to learn from those challenges and learn from some of that scar tissue that's built up.
"I felt last year that I maybe shed some of that scar tissue and felt like I sort of made breakthroughs.
"I'm feeling as relaxed as I ever have coming in here just in terms of I feel like my game is in a pretty good place. I know the place just as about as well as anyone."
One key for McIlroy will be making a better start than recent years, when he has often left himself with do much to do on a course where it is difficult to chase a deficit. An opening 69 in 2018 has been followed since by 73, 75, 76 and 73.
"I've always felt like I have the physical ability to win this tournament," McIlroy said. "But it's being in the right head space to let those physical abilities shine through. It's been tentative starts, not putting my foot on the gas early enough. I've had a couple of bad nine holes that have sort of thrown me out of the tournament at times.
"I've got all the ingredients to make the pie. It's just putting all those ingredients in and setting the oven to the right temperature and letting it all sort of come to fruition."
The presence of 18 LIV players in the field meant McIlroy could not entirely avoid questions about the seismic split in the men's professional game caused by the emergence of the Saudi-funded breakaway.
But after revealing he would practice with Brooks Koepka - who won the latest LIV event on Sunday - and stressing that the Masters is "way bigger than any of that", McIlroy's eyes were again drawn to the large image of his 18th hole celebration from last year on the interview room wall.
"The only thing that I can say is that I proved to myself that I could do it," he reflected. "As much as I didn't really get into contention, there was a part of me on that back nine last year that felt that I had a chance, and to play the way I did and to eagle 13 and to have those feelings, in my mind anyway I felt like it was a breakthrough.
"So any time I see an image like that or the video, it just brings back all those good vibes."
Asked about the popular belief that Augusta National suits his style of play more than any other major venue, McIlroy added: "It does, but they said the same thing about Ernie Els, Greg Norman.
"Just because a place is deemed perfectly set up for your game, it doesn't automatically mean that you're going to win it one day.
"There's more to it than that. There's also been players that you would think this golf course wouldn't set up well for them, and they have went on and won a green jacket.
"I don't need to do anything differently this week. I go out and play the way that I know that I can, get myself in with a chance to win, and then those last couple hours on Sunday, it's not about whether the course sets up well for you.
"It's about who can hold it together the best."