Across three previous seasons in Belfast, Boxill helped the Giants to two Challenge Cups and an EIHL League title, quickly becoming a fan favourite due to his on-ice tenacity and total commitment to the cause. An accomplished penalty killer, Boxill also took pride in the defensive side of the game and was known to stick up for his teammates when the situation arose.
It was during the 2019 Challenge Cup Final versus the Guildford Flames when 'Boxy' made an indelible mark on Belfast Giants history; throwing his body down in front of a ferocious Calle Ackered power play shot deep in the third period, sending a tied game to overtime, and ultimately resulting in a Giants victory.
Boxill has also tasted success on the international stage, helping Team GB secure back-to-back Div 1B silver medals in the IIHF World Championships in 14/15 and 15/16.
The following day it was announced that current captain of the Belfast Giants David Goodwin will also be joining the All Stars roster line-up.
Captaining the Giants to a historic Viaplay Elite League and Challenge Cup double last season (2021/22), he's already lifted the Challenge Cup trophy in Belfast this year.In his College senior year with Penn State, Goodwin was named Captain and led his team to a Big 10 Championship, posting 38 points in 39 games played. He also received an NCAA Sportsmanship Award.
No stranger to travelling to pursue his hockey career, Goodwin has an extensive suite of experience - starting off with NCAA College hockey at Penn State in the USA, he moved on to pro business, spending seasons in Sweden, Finland, and Poland, leading him to his captaincy today in Belfast.
Next up to join the All Stars was former left wing Steve Saviano.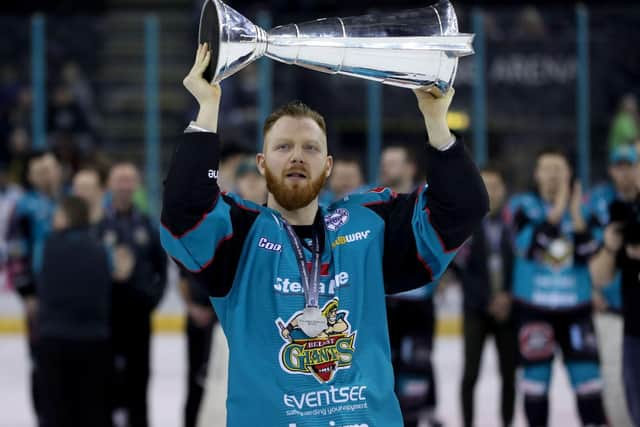 Having spent two seasons at the SSE Arena, Belfast between 2016 and 2018, icing over 100 times for the Giants, Massachusetts born Saviano is best known for being a truly outstanding skater, with excellent top speed and acceleration, as well as being a hard worker in the offensive zone.
Saviano played an integral part in the Giants reaching the playoffs during both of his seasons in Belfast, before moving on to play for Weißwasser-based Lausitzer Füchse in the German DEL2, where he finished his career in 2019.