The Loughbrickland rider had a perfect day qualifying fastest and winning all three races in the Pro class to claim the overall from his brother John and Newtownards rider Luke Smith.
"A cracking day with three good starts a three good races to take the overall," said Meara. "Everyone else seemed to be making mistakes while I stayed out of trouble. In the last race John was up for it and passed me early on.
"I knew I had the overall in the bag and decided to give him a couple of laps and see if I had the pace to go with him.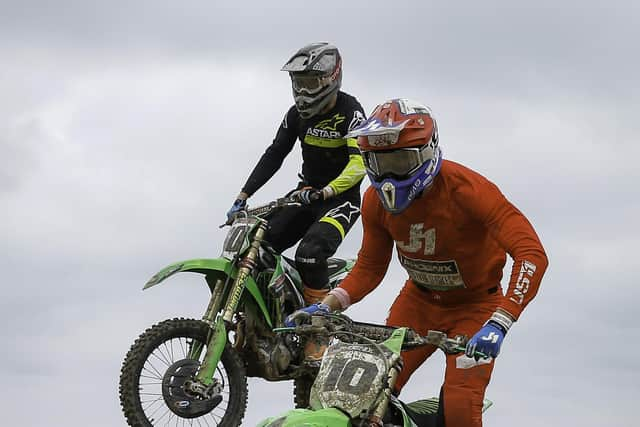 "If I did I'd try and make an attack back. I put my head down and followed him, finding places where I was better and in the places he was better I was able to adapt, follow his lines and about the halfway mark I made my move. Again I upped the pace before John made a mistake near the end. All in all a good day with three wins and the hole shot, so I can't complain."
Ballyclare's Charley Irwin had a very successful weekend at Cusses Gorse, Wiltshire, taking the overall win in the Master Kids 250 class. The 15-year-old Discount Beds Honda rider had six top three finishes over the weekend.
"I had issues with the throttle sticking in the opening two races but in my other four motos it all went pretty much to plan," he said.
"It could have been three races wins as I was leading race four when I tucked the front and went down, two laps from home. I did manage to finish second but I'm happy with two victories and the overall. I'm now looking forward to the Scottish championship this weekend."
Omagh schoolboy Lewis Spratt was in action on Saturday at the fourth round of the Irish youth championship and had a brilliant day qualifying fastest, and taking three comfortable victories in the B/W 85 class. He extends his lead in the championship to 52 points with two rounds remaining.
Martin Kalnins, Jonny Presho, Melaine Griffiths, Max Jones, Alfie Heron, Alex Henderson and Eric Lynch all won their respective classes on Saturday.
The next round of the ACU British Quad Championship and British Sidecar Cross Championships is set to take place at Tandragee Motocross Track on Saturday 18th June, hosted by Quad Racing Ireland.
As the only round of the British Quad and British Sidecar Cross Championships in Northern Ireland, the event is expected to attract hundreds of motorsport enthusiasts from across Northern Ireland, as well as the competing riders and teams from across the UK. 
Leading the quad championship after the last round at Dean Moor is Hillsborough's Mark McLernon and the defending champion will be all out to extend his lead in the series over Reading's Harry Walker, who trails the local man by 16 points. Completing the top three heading to Tandragee is Scotland's Murry Graham. 
Former British champion, Comber's Justin Reid lies fifth in the series but on his day can be a match for anyone. 
The reigning under 21 champion Moria's Dean Dillon has done most of his racing at home in 2022 but would love to at least make the podium at Tandragee.
In the Sidecar Cross Championships, Lisburn's Gary Moulds with passenger Lewis Gray are in third place on 156 points. 
After finishing on the podium at Dean Moor last time out Moulds believes that home advantage could be the perfect opportunity to claim his first British win of the season. Reigning Ulster champions Neil Campbell/Ross Graham could also feature in the results along with Jonathan Wilson/Andrew Rowan. 
Ahead of the event, Chairman of Quad Racing Ireland, Derek Young, said: "We're delighted to be bringing the ACU British Quad Championship and British Sidecar Cross Championship to Northern Ireland in what is a 'golden age' for quad and sidecar racing in Northern Ireland. 
"We have local riders who are amongst the best and most talented in the UK. Just last year, three quad riders, Justin Reid, Mark McLernon and Dean Dillion made history, becoming the first-ever Irish team to win the Quadcross of Nations. 
"A home round of the British Quad and Sidecar Cross Championships is a special occasion for our local riders, and we're looking forward to welcoming hundreds of spectators to cheer on our local riders who will have their eyes on securing a top finish." 
Tandragee Motocross Park is located at Tamnaghmore Road, Tandragee, BT62 3LS. Gates open at 9am on Saturday 18th June with racing expected to get underway at 10.30am. Spectator entry costs £5 with entry for under 16s free.