The Ballyliffin Challenge on Saturday, April 8, brought this Donegal village to a halt, but only for a brief time, as over 900 runners lined up on the main street for this year's Coastal Challenge.
The event offers two distances, a seven or a ten-mile course, with most of the entrants opting for the longer distance.
This year saw six Springers make the journey to Donegal with Michael Johnson and Pauline Mullan producing good times as they make their final preparations for the London Marathon. Springwell RC - 103rd Michael Johnson 1:18:06, 142nd Pauline Mullan 1:21:26, 171st Michael Mulvenna 1:23:25, 238th Patricia Craig 1:26:39, 434th Andrew Wilmot 1:40:28, 450th Colin Connolly 1:41:46.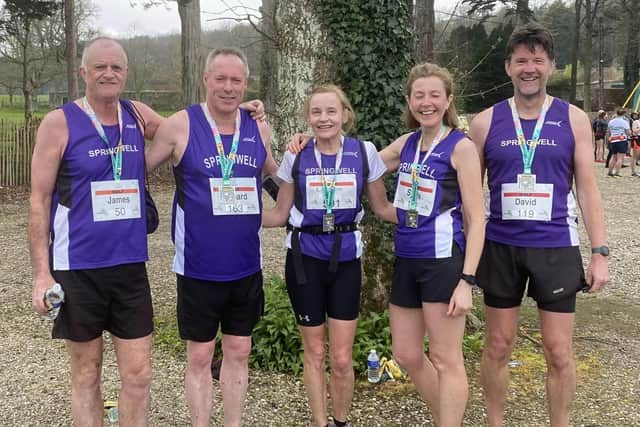 Hosted by Born 2 Run events management company, Lord and Lady Antrim welcomed over 500 competitors to their estate at Glenarm Castle on Saturday past for the "Glenarm Challenge".
In the 5k event, Janet Patrick was the Springwell RC standard bearer and acquitted herself well with a 27:43 for 26th place and second in her age category, while in the 10k Matthew Montgomery placed 23rd with 45:04. In the Half Marathon David McGaffin was first home for the club, finishing 32nd (3rd M55) with a time of 1:42:04. Elizabeth Deighan continued her return to fitness with a time of 2:05:04 to win the F60 age category.
Springwell RC 5k 26th Janet Patrick 27:43 (2nd F60) 10k 23rd Matthew Montgomery 45:04 Half Marathon 32nd David McGaffin 1:42:04 (3rd M55), 50th Jonathan Huddleston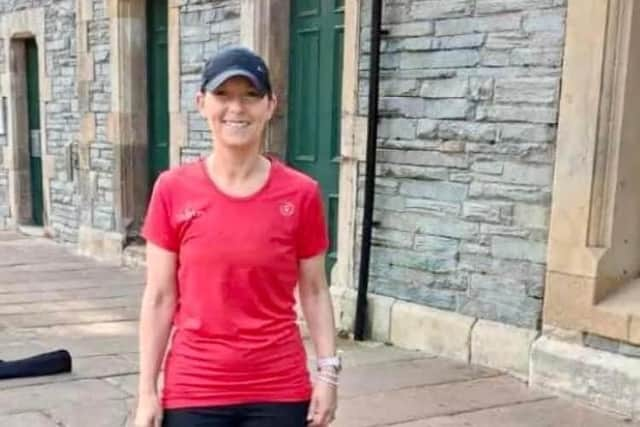 1:48:19, 95th Richard Pollock 1:57:37, 103rd Sylvia Pollock 1:59:19, 127th James Evans 2:03:01, 139th Elizabeth Deighan 2:05:04 (1st F60)
The Easter weekend saw 49 Springers doing their parkruns at 14 different venues with seven personal bests recorded. With the high tide and soft sand at Portrush creating a challenging course, it was to be Limavady and the celebration of Deborah McPhee's 50th parkrun where most of the personal bests could be found.
Derry City - Ryan GRAY 21:05; Ecos - Kenneth BACON 41:16; Portrush - David O'NEILL 20:59, Cathy ADAMS 26:17, Seamus MCATEER 27:02, Mervyn THOMPSON 27:21, Pamela HOWE 27:28, Gary MOORE 27:34, Alanna MILLAR 34:04, Andrew WILSON 37:47, Iris WILSON 38:05, Lorraine ABERNETHY 38:11, Caitriona MACKLE 40:47, Barry MCBRIDE 43:15, Fergal MACKLE 43:15, Caoimhe QUINN 43:23, Emer THOMPSON 50:32, Roisin WALKER 56:31.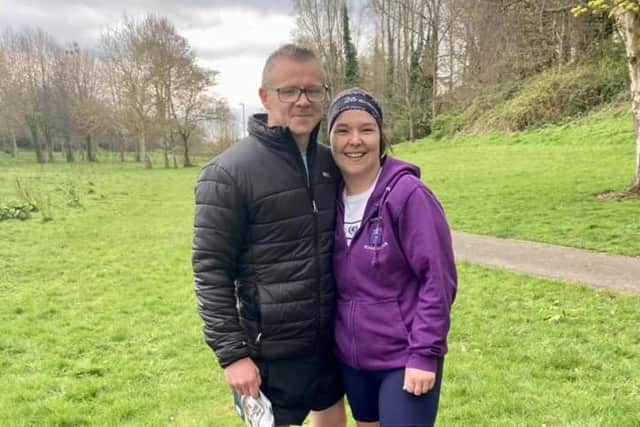 Ormeau - Conor SHIELDS 22:53; Antrim - Shaun CARTON 21:40, Monica MCCLENAGHAN 33:35; Larne - Janet PATRICK 28:03; Keswick - Sinead GRAHAM 26:16; Limavady - Rodney MC PHEE 18:05 PB, John BUTCHER 18:07 PB, Ryan KENNEDY 18:33 PB, Kevin MCLEAN 21:17, Adrian FINLAY 21:34 PB, Fergus THOMPSON 23:38, Deborah MCPHEE 23:41 PB, Leanne QUIGLEY 24:22, Ashley MCPHEE 26:46, Alan WHITE 27:02, Heather MCLAUGHLIN 28:53, Alison C DUNCAN 28:54, Peter JACK 30:54, Linda MCMICHAEL 31:15, Ingrid HAMILTON 31:26, Katrina ADAMS 34:02, Nicola WHITE 34:02, David MCCOOL 51:38.
Stormont - Gemma WRAY 30:02; parkrun Zamek w Malborku - Catherine BYERS 34:07; Achill Greenway - Elaine MONTGOMERY 36:15; Garvagh Forest - Gary KENDALL 22:01 PB, Alan PLATT 27:06; Derrynoid Forest - James HUGHES 23:37; Limepark Playing Fields - Jonathan MCNABB 20:54, Patrick MAGEE 27:08 PB.