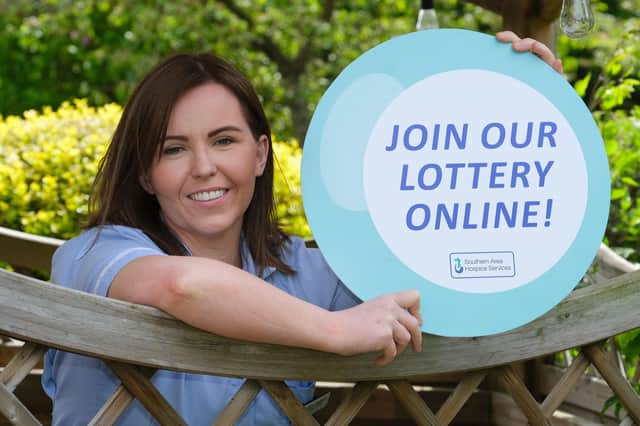 Join the Southern Area Hospice lottery today to make a difference tomorrow for hospice patients
Southern Area Hospice Services provides invaluable support and care to people living within the Southern Health Board Area who are suffering from a range of conditions including cancer, multiple sclerosis, motor neurone disease and AIDS. Their aim is to provide the best quality of life for their patients and their families.
But they can only do that if they can raise enough funds. This year, it needs to raise £3 million to enable it to continue to provide support. This is approximately 65 per cent of the total required income, and equates to £343 per hour.
Southern Area Hospice Services are appealing for people to join their weekly lottery for just £1 which will provide them with a vital source of regular income. A regular source of income will help the Hospice plan for the future and make long-term improvements for patient and their families. By joining the lottery, you are adding to a steady income stream that the Hospice can rely on to continue to provide specialist palliative and end of life care.
Deirdre Breen runs the Lurgan Support Group
The Lottery is one of Southern Area Hospices Services main sources of income, providing over £150,000 per year but with ever increasing costs the need for new lottery supporters grows.
Deirdre Breen, who runs the Lurgan Support Group and has been fundraising for Southern Area Hospice for an astonishing 22 years, is in no doubt how important the hospice lottery is. She said: "I encourage everyone to join the Hospice lottery because it gives you the chance to win weekly prizes for only £1 per week.
"I have personally entered the lottery for 22 years and you don't notice that £1 donation each week but it makes a huge difference to the Hospice, everyone's £1 adds up to a lot of money each week that the Hospice uses to care for its patients. People can join the lottery easily online but they can also contact me if they want more information or I can register them."
The lottery, which has been running since 1999, has only gone online in the past few months but its convenience has already proven popular because it is an affordable way to support the hospice work on a regular basis.
And this year has already seen some big wins. Norbrook Employee Zoe Coulter took home £1,400 in the Southern Area Hospice lottery by donating just £4.34 per month through her workplace. Meanwhile, Mrs F. Egan, from Belfast scooped the maximum rollover prize of £5,000.
By joining the hospice lottery, supporters donate just £1 per week, or £4.34 per month, to be in with the chance of winning guaranteed weekly prizes of £300, £200 and £100.
There is also an additional rollover prize, up to a maximum of £5,000.
Everyone registering is allocated an automatically generated five-digit number and the draw is made every Friday morning, with the winners announced on the hospice website and Facebook page.
The lottery is open to over-16s only.