Plans lodged to build a new petrol station and convenience store in Portadown
Plans have been lodged with Armagh City, Banbridge and Craigavon Borough Council's planners to bring a new petrol station to Portadown.
Watch more of our videos on Shots!
and live on Freeview channel 276
Visit Shots! now
Lodged by agent Roxborough Plant and Construction, on behalf of applicant Farad Enterprises Ltd, the application seeks permission to construct a petrol filling station and convenience store at lands 52m north west of 48-50 Killycomaine Road, 40m south-east of 26-32 Bachelors Avenue and 44m south of 16 and 18 Bachelors Avenue with access onto Killycomaine Road.
Permission is also sought for the creation of a hot food prep area and deli counter, bulk fuels store, petrol pumps, canopy, right turning lane and associated site works.
According to the application form, the site for which planning permission is sought is 0.3 hectares in size and the applicant owns or controls land adjoining this development.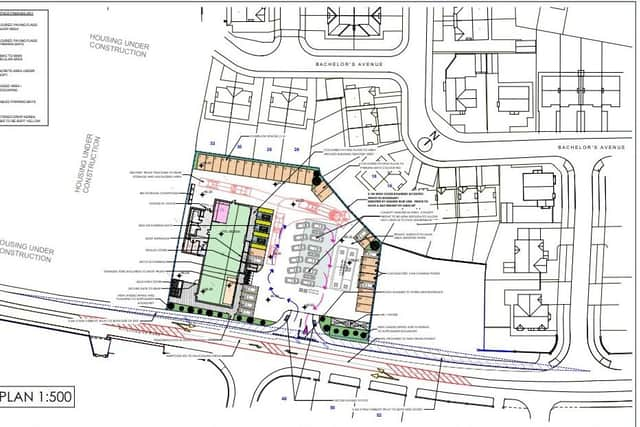 It also explains the site was previously occupied by three dwellings which were demolished around 2010. If approved, the development will require the construction of a new vehicular access to the Killycomaine Road and 36 car parking spaces will be created on site.
Water will be supplied to the site via the mains and any surface water and foul sewage will also be disposed of via the mains sewer.
As for trade waste, all waste packaging related to the activities of the shop will be recycled via commercial collection with food waste to be disposed of in relevant waste bins. If constructed, the building will have a total gross floorspace of 476m2.
Daily Basis
Currently no vehicles attend the site on a daily basis. However, once the proposed development opens to the public, it is anticipated there will be four staff vehicles, 741 visitor vehicles and 16 goods vehicles attending the site on a daily basis. This total of 761 vehicles is expected to result in five employees and 1,125 others attending the site on a daily basis.
A transport assessment form submitted as part of the application notes the development is likely to generate 30 or more vehicle movements per hour with the peak hour for the site estimated to be between 3pm and 4pm when 204 trips are likely to be taken. It also notes the location of the development is accessible by non-car modes of transport from adjacent business residences.
There are a "large number of homes within the 1000m walking catchment" area and a footway on both sides of the road as well as bus stops on the Killycomaine Road, approximately 200m from the site.
However, in response to consultation on the application, NI Water has expressed concerns and advised the applicant to contact NI Water directly to address issues including the presence of a public foul sewer within 20m of the proposed development boundary and a lack of public surface water sewer within 20m of the proposed development boundary.
While recommending the application is refused at present, NI Water has said that "subject to the applicant engaging with NI Water as outlined" it may "reconsider its recommendation".
Lodged on March 28 and validated on May 3, the application's neighbour consultation period expires on Saturday, May 20, with its standard consultation period due to expire on Friday, May 26.
The application will be advertised until Saturday, June 3.