A total of 40 houses and 24 apartments are planned at Belfast Road. Existing buildings on the former factory site are earmarked for demolition.
The 5.3 acre vacant site, formerly occupied by Flaxall, was on the market for £2.8m. The textiles plant which printed, dyed and finished fabrics closed in 2006 with the loss of 50 jobs. The closure was blamed on demand for lower cost alternatives which led to a reduction in orders.
The proposed new homes will comprise of 30 four-bedroom; ten three-bedroom houses and 24 two-bedroom apartments, if they are given the go-ahead.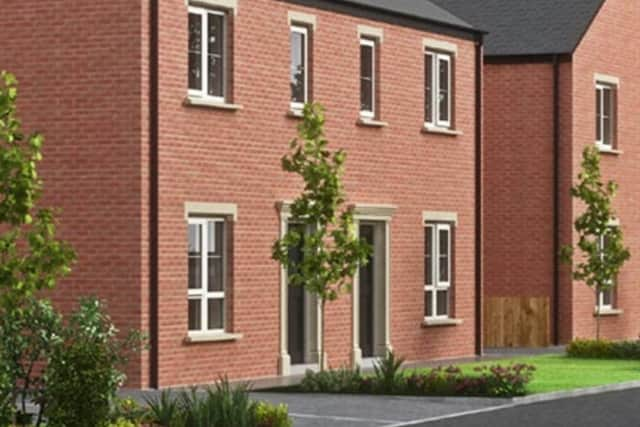 A pre-application community consultation report indicated that one respondent expressed concern about traffic stating that "high traffic levels were already an issue on these roads".
Another asked if the entrance to the site would be an "extra junction" at Belfast Road and another said a "filter lane" is needed at Sloefield Drive. A respondent asked if the existing buildings could not be converted into apartments.
Traffic Levels
The report says a Transport Assessment Form indicates a "negligible impact on the existing road network and traffic levels" and on that basis, it has been suggested there is "no requirement for any off-site highway improvements to be delivered in order to mitigate traffic impacts of this development".
It also states: "The existing access onto Belfast Road is proposed to be closed and access to the site is now proposed to be taken from Sloefield Drive."
It noted: "The proposed mix of accommodation has been carefully designed to reflect the character of the surrounding area" and is said to "align with the prevailing market demand in the Carrickfergus area".
"Conversion of the building to apartments would provide limited opportunity to deliver houses whilst complying with the normal design requirements."
Michelle Weir, Local Democracy Reporter