Lodged by the Education Authority, the application seeks permission to erect a double science unit and two single classroom units on the school's site at 26-34 Lurgan Road, Portadown.
The application form notes the 0.23 hectare site is currently in use as a post-primary school and access to the proposed development will be provided via an existing unaltered access to a public road.
Water will be supplied to the development via the mains network, which will also dispose of foul sewage and surface water will be disposed of via the existing storm drainage system.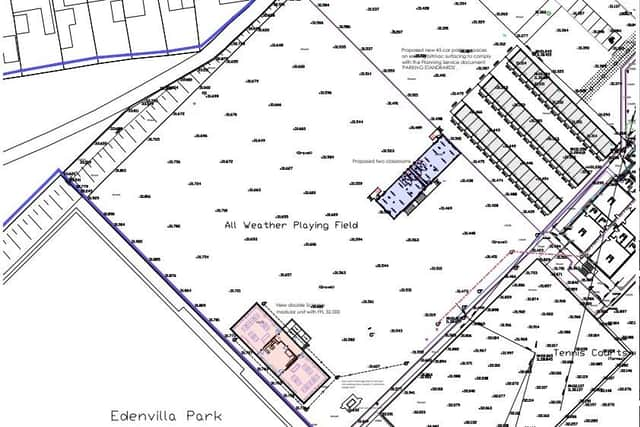 It also notes the site in question is within an area of known flood risk and a surface water flood risk and drainage assessment notes the proposed classrooms are potentially affected by surface water flooding with a depth of less than 0.3m.
To address this, the report says the units should raise the "finished floor level to a minimum of 300mm above the existing ground level" and notes that access to the units will then be provided by "steps/ramps/rails".
It concludes "adequate measures have been included within the site design to effectively mitigate the surface water flood risk to the proposed development and from the development elsewhere" and as such claims it is compliant with the relevant planning policy.
Playing Field
In total, if the proposed development comes to fruition, a further 422m2 of gross floor space will be available on site with the units to be built on the school's all weather playing field.
Currently there are 74 staff vehicles, 60 visitor/customer vehicles and five goods vehicles attending the site on a daily basis. This total of 139 vehicles is expected to increase to 149, through the addition of a further 10 staff vehicles should the development come to fruition.
As for the number of people attending the site at present there is a total of 384 on site on an average day. This consists of 74 employees and 310 others.
Should these plans be approved, the total number on-site is expected to increase by 90 to 474 which will be made up of 84 employees and 390 others.
Lodged and validated on Monday, April 3, the application's neighbour consultation period will expire on Wednesday, May 18 with its standard consultation due to expire on Friday, June 2.
The application will be advertised until Saturday, June 3.
Adam Morton, Local Democracy Reporter