The awards are judged across key criteria examining resource efficiency, energy and carbon, biodiversity, health and wellbeing activities; stakeholder, employee and community engagement as well as employee culture, behaviour and leadership.
They embrace Translink's corporate responsibility themes - Go Safe, Go Eco, Go Healthy and Go Together.
The 2022 Awards saw 35 Translink bus and train facilities participating in the initiative which has a strong environmental-responsibility focus and reflects wider efforts to make Northern Ireland a more attractive place to live and work while supporting economic and social prosperity. More than 20 facilities achieved the top Platinum standard, with another 12 achieving a Gold Award.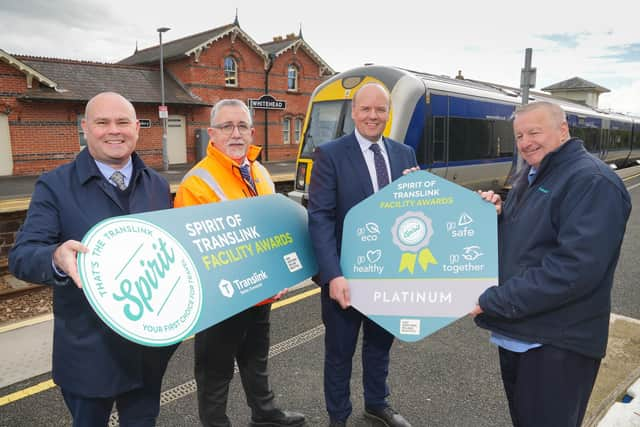 John Thompson, Head of Safety and Corporate Responsibility at Translink said: "Congratulations to all our SPIRIT of Translink Facility Award winners. The high standard of entries is testament to the efforts of colleagues across the business to ensure their local facility operates as effectively and efficiently as possible.
"Colleagues have displayed a real sense of pride in their workplace, demonstrating their commitment to upholding our corporate values or what we call the 'Translink SPIRIT' - Safety, People, Innovation, Responsibility, Integrity and Teamwork.
"Public transport plays a vital role in keeping local communities connected and supporting environmental, social and economic wellbeing. Attractive facilities are a key part of delivering these benefits and making public transport your first choice for travel, today for tomorrow.
"I'd like to thank everyone for their continued participation in these important Awards and embracing the Translink SPIRIT."
The SPIRIT of Translink Awards are independently judged by Keep Northern Ireland Beautiful.
KNIB Chief Executive Ian Humphreys said: "These awards are a testament to the value Translink places on reducing their environmental impact, health and wellbeing, and community engagement. We're delighted to see so many stations delivering the high standards necessary to win Platinum and Gold awards this year."
The package is part of the transport provider's Tree Management Programme and will contribute to Antrim and Newtownabbey Council's One Million Tree initiative.