On Saturday, June 17, Arthur Marshall, Chris Soeters, Conor Sheridan, Mark Francey, Neil Campbell, Ray Williams, Pamela Kane, Kathleen Monteverde, Brian Critchley, Dave Rowlands, Alan Baxter, Stephen Hicks, Marty Wilgaus, Ally Cardwell and Rachael Horne will swim from Grey Point, Co Down to Carrickfergus, coming ashore on the beach next to the castle.
Organiser Gary Davison explained: "The straight-line distance of the swim is 3.02 nautical miles, however considering the tide and open water swim the distance will be in the region of 3.75 to 4.3 nautical miles.
"All fifteen are experienced open water swimmers having competed in a variety of triathlons and swimming events. The fifteen will be supported by four RIBs.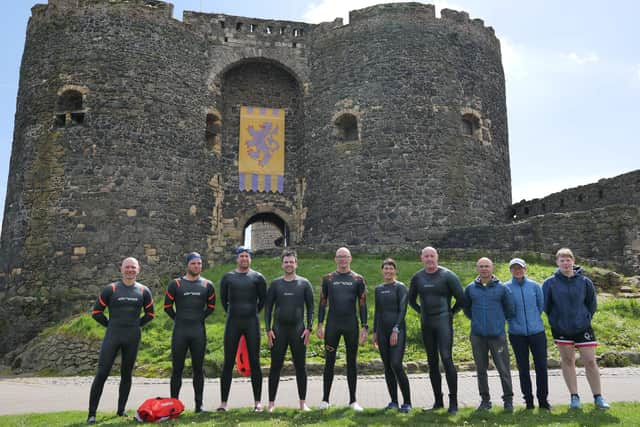 "High tide Carrickfergus is at 11.36 on 17th 2023. Once the weather has been checked and everything is good to go, the swimmers will travel on the four safety RIBs from Carrickfergus and sail to Greys Point.
"The fifteen swimmers will enter the water at 10:00 to start the swim to Carrickfergus Castle - at around 12:15 to 12:45 they should come ashore."
"Over the past number of years this has drawn a large crowd of family, friends and supporters who cheer them ashore."
The swim is in support of Belfast Lough Sailability. Based in Carrickfergus, the charity is run by a team of dedicated volunteers who assist in the co-ordination of activities as well as enabling people living with disabilities to get afloat.
Each swimmer has an individual just giving page set up for people to support.