The planned new residential development is located in Ballystrudder beside Islandmagee Football Club.
Senior planning officer Denise Kerr explained the current application is "intended to complete the overall development" served by access from Middle Road.
She told the committee all the proposed designs are "considered acceptable" and will comprise of one detached, six chalet bungalows and two semi-detached dwellings.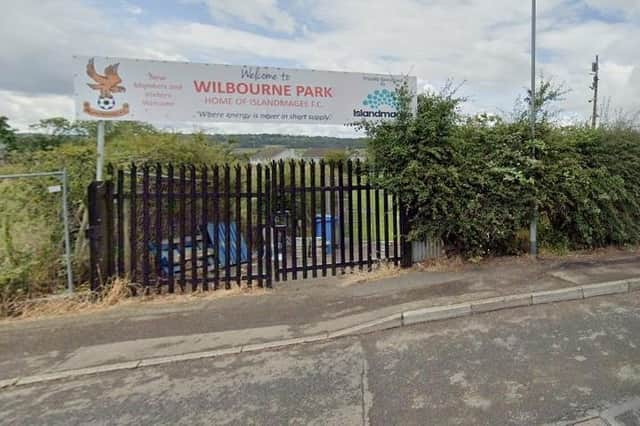 The officer went on to say there has been objection from neighbouring Islandmagee Football Club.
A report to councillors says: "Islandmagee Football Club have concerns with housing backing into their pitch and are of the opinion that a ball stop fence should be erected along the length of the back gardens."
The officer commented this was "considered to be unreasonable and unenforceable" as a number of residents would have to "take responsibility" for it.
The applicant's agent Damien McLaughlin said the proposal before the committee is "purely for change in house type".
Future Residents
"Previous permission saw no need to include a ball stop," he added. He continued that such provision would be "unreasonable and creating issues for future residents". He noted the site had been disused for some time.
Larne Lough Alliance Councillor Robert Logan commented: "I think this development is to be welcomed." He went on to say the site has been "an eyesore for a considerable time". Cllr Logan said he was "happy to propose" the officer's recommendation to approve.
Larne Lough DUP Alderman Paul Reid remarked: "NI Water has no objections for a change."
Seconding the proposal, he said: "I quite often got complaints about the state of that ground with weeds. It was an eyesore going to The Gobbins."
Coast Road DUP Councillor Angela Smyth stated: "I am not against the application. I hope the people who buy those houses realise there is a football club beside them when a ball goes into their garden, and hope the relationship between the club and home owners does not go sour. I have seen it happen at Sandy Bay."
Michelle Weir, Local Democracy Reporter