Priest at funeral for Lurgan boy Caoimhín Mallon reveals watching mother's tears wash 'his wee face'
A priest at the funeral of 15-year-old Lurgan boy Caoimhín Mallon spoke of how he watched during the wake as his mother caressed her son's face and washed it with her tears.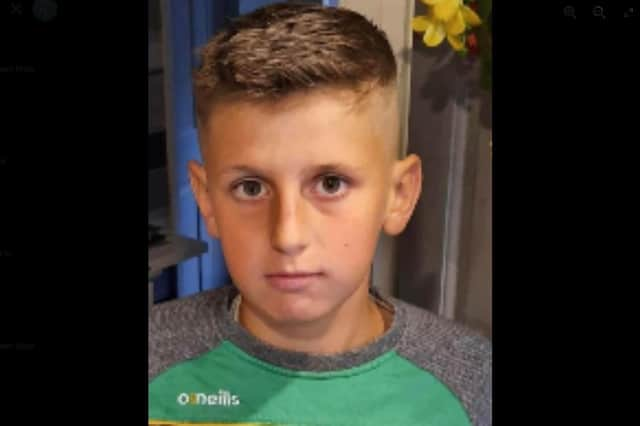 Hundreds gathered for Caoimhín's funeral in St Paul's Church on Thursday morning, one of the largest in Lurgan for many, many years with the vast majority of the congregation young people. Many squeezed into every corner of the large church with many more standing outside in the rain.
Caoimhín died tragically on Sunday morning at hospital and medics were praised for their valiant efforts to save him.
-
-
His coffin, draped in the green, white and gold flowers, the colours of St Paul's GAA club, arrived carried by family and friends dressed in St Paul's GAA jackets. Fr Colm Wright welcomed all those from Caoimhín's family and his many friends including those from his school St Ronan's College and former school St Francis' PS as well as both their principals.
"We gather here around his remains, the remains of a young teenager. We celebrate his wee life. We pray for him and his broken hearted family."
Fr Wright said: "On behalf of Archbishop of Armagh Eamon Martin, Primate of All Ireland, Mary-Lou McDonald, National President of Sinn Fein, Larry McCarthy, President of the GAA and on behalf of all of us on the Altar and all our parishioners and Caoimhin's friends, may we offer you all our very deepest sypmathies.
His friends brought gifts to the Altar representing his life, including a St Paul's GAA jersey framed signed by all his friends. Caoimhín has three generations of his family involved with the club including his grandfather who was a founding member. He loved football too and his Liverpool flag and scarf were both brought to the Altar. Fr Colm said: "His Liverpool flag and scarf that hung with pride of place. It was very important to him, and his trips to Anfield."
Also brought to the Altar was some chocolate. Fr Wright said: "We are told he loved chocolate, not only did he eat it but he dreamed about it too. He was a big fan of Cadbury's and it may be closing down as one of its best customers has gone." An Armagh jersey was also brought to the Altar to reflect his love of the county team.
His brother Daire read the first reading in Gaelic while two pupils from St Ronan's College sang the Responsorial Psalm and Ruth read the Second Reading.
The hospital staff who tried to save him and all those suffering from asthma were prayed for during the Prayers of the Faithful.
Fr Colm Wright told the congregation that everyone is 'stunned' with so many in tears and his family 'overloaded in grief'.
He said: "They are literally walking about the place in anguish. We are not here today for answers to questions because there are no answers. We are each and every one of us here stunned. We don't understand.
"The death of a child or a young person is heart breaking. It shouldn't happen. It's not right. If an older person dies, we feel bad OK but we can accept it. It's not the same for a young person. We think of an older person, they had a long life. It's OK for them to die but not a child or a young person. They have had no time to live.
"But they should live, and breathe and play. They should get up to mischief, come in late at night after the curfew and even from time to time they should drive their parents around the bend all before they grow up.
"Caoimhín has been deprived of all these things and his parents have been deprived of looking on as he did them. They have been deprived of laughing, of getting angry, of giving out and of smiling and loving him.
"To Caoimhín's family, Donna, Jude, Saoirse and Dáire, I think I speak on behalf of everyone when I say, we are all very sorry. We are sorry for your hearts. We are sorry for your loss. If truth be told if any one of us here could get something to ease your suffering wherever that would be each one of us here would travel let it be to the ends of the earth just to get it for you and ease your pain. Sadly that's not possible.
"These last few days I have watched you. I have looked on and I said it to you Donna, you are physically bent over, clinging onto your stomach, unable to straighten up with pain. That's the pain that parents feel at the loss of a child. You took him into the world and the pain of bringing a child into the world is unfathomable but yet nothing, I imagine, to let the child go out of the world.
"I have watched both of you and your children and grandparents cradle Caoimhín in the hospital, in the funeral home and in your own home. I have watched you caress and kiss his wee face where your tears literally washed his face. I was so moved, I watched as you prayed for your son and I was amazed you were still able to do that.
"I watched you Pat in the hospital and the first thing you did was reach for your Rosary beads. I thought, my God, Pat you have lost two of your children , your son and your daughter and now your grandson. And your faith is still as strong. I watched you Marie and when I went to speak to you, you couldn't speak – the sheer shock of this child dying.
Fr Wright said he was not going to 'try to put words on this. It's not possible' but if there is anything they could do they will do it. "We are here to walk beside you and carry you in our arms and let you know our love is your love."
Caoimhín's sister Saoirse said: "My brother, my wee man, my best friend, I love who you were. I love that cheeky smile on your face and always joking around."
She spoke of how she adored her brother, taking him under her wing and trying her best to keep him on the right path 'and show you all the things in life'.
"It's going to be hard coming into the house and the first thing I ask is 'Where is Caoimhín' and going up to your room and sit with you messing about. We have always been there for each other. There wasn't a day when we weren't winding each other up and when we both got hyper it was a dangerous game. It even got the point where you let me shave your eyebrows off and when you were younger you used to let me dress you up as a girl and put make up on you and false tan. You never failed to make me laugh. You would have done anything I told you to.
"I am going to miss running about on the weekend, as much as I hated it at the time, looking for you and you trying to hide from me. I always ended up finding you one way or the other.
"I was so thankful I got taking you to a concert with me. You had the best time dancing away and having the craic. But of course we missed the last train home and dad had to come and get us.
"You were the wee Golden Child who got anything you wanted. You had mum and dad wrapped around your wee finger. It's been the hardest thing to lose you, you meant so much to me but you are in my heart and that is where you will always be. I know Heaven called you but I wish would have stayed. At least the memories I have of you will never ever fade. I did not want to lose you but you did not go alone because part of me went with you when Heaven called you home. Remember one thing, we are not far apart. You are with me in my memories and broken heart. With a smile on your face and pride on your chest, you're in the throne of Heaven with St Paul's crest."
Caoimhín's brother Dáire said: "We are gathered here today to say goodbye to my little brother Caoimhín Mallon who was the best little brother anyone could ask for. He always had a smile on his face and he would laugh at all your jokes no matter how bad they were.
"Spending time with Caoimhín was like therapy, you always came away feeling better. Caoimhín had a heart as big as the world and empathy beyond his years. It is no wonder given how family orientated and loving both his families are.
"As Caoimhín grew up he developed a passion for football, particularly Liverpool and Cliftonville. Last year, him and my Dad made the trip over to Liverpool for his first game and, on reflection, I am so happy he got the chance to experience that in his life even if it did end up as Liverpool's first home defeat in a year.
"Caoimhín also loved Gaelic football and was a huge fan of Armagh and, of course, St Paul's. He supported the games everywhere from the playing fields of Taghnevan to the Athletic Grounds and the whole way down to Croke Park. He himself was a proud defender for St Paul's and we all had a great sense of pride watching him play on the pitch.
"Sadly Caoimhín's life was cut short far too soon but we can take great comfort in the fact that in his 15 years with us he experienced such immense love from his family and friends.
"His passing has had a profound impact on our community. To his young friends, we ask that you look out for each other and don't be afraid to ask for support through these tough times.
"On behalf of the entire family I would like to express our deepest gratitude to everyone who has supported us during this difficult time. Your love kindness and generosity has brought us comfort and solace in the midst of our heartache. We are truly grateful to all who visited and paid your respects, sent food to the home, shared gifts, pictures, stories and words of comfort. Your presence and your words have helped us find strength and hope in the midst of our grief.
"We would like to extend a special thanks to Fr Wright who has been a constant source of comfort and support, also thanks to Fr Fitzpatrick who visited Caoimhín at the hospital on Sunday morning. We are grateful to the entire parish for all of their support. We cannot forget the paramedics and hospital staff who did their very best to save Caoimhín. We appreciate their tireless efforts and dedication in trying to save our beloved young man.
"Our heartfelt thanks goes to the schools, the choir, the singers, the piano player and McAlinden and Murtagh Funeral Directors who helped us with a fitting tribute to Caoimhín.
"Our community, especially our own Gaelic club St Paul's, has played a significant role in supporting our family from the very beginning of this heartache. They have put their arms around the whole family and around the whole community at this tragic time
"I would like to finish by asking that you all hold the memories of Caoimhín close to hearts and never be afraid to share them with us or each other. He will always be remembered for his bright spirit, infectious laughter and his unwavering love. His memory will live on in our hearts. Rest in Peace little brother. Love you."