The Ballyclare-based charity is asking for financial aid to bridge an anticipated shortfall in funding of almost £36k from the end of June.
A report to councillors says there is uncertainty regarding funding from the Department for Infrastructure and South Antrim Community Transport has asked for interim funding from the council for a three-month period.
The charity told the Local Democracy Reporting Service: "South Antrim Community Transport has been providing a transport option for some of the most vulnerable people residing in rural parts of South Antrim for 19 years.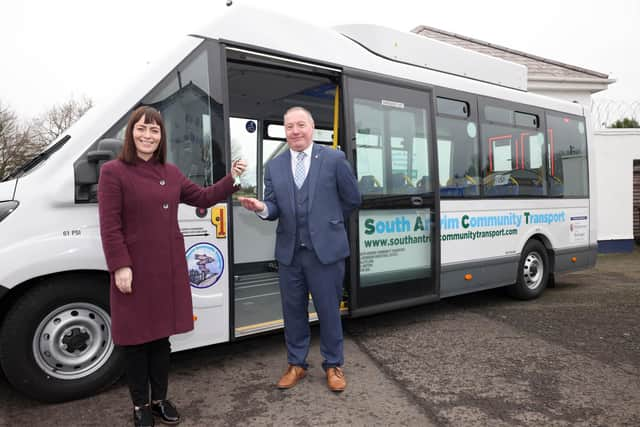 "Our service is used for every day essential services including shopping, medical appointments and visiting friends. These are things that car drivers and persons on a main bus route take for granted. Ninety-one per cent of people using our transport have a disability.
"The Department for Infrastructure (DfI) has funded our service and has agreed to provide funding for this year until July. Funding after that is not guaranteed.
"We are engaging with a range of other potential funders to ensure that our lifeline service continues. It is vital for our service users' mental and physical health and their independence. It also allows many people to stay living in their own homes for longer.
"Community Transport is available to any person who lives in rural South Antrim, does not have access to a car and has difficulty accessing public transport due to the lack of it or their mobility. We will do all we can to ensure that this service continues and that the many members we serve are afforded the same access to transport that urban dwellers enjoy."
Registered Users
South Antrim Community Transport has more than 400 registered users, 91% of whom have a disability. The service provides approximately 11,596 journeys annually. A 'Community Wheels' service transports passengers to hospital appointments, providing 4,000 trips annually.
In addition, South Antrim Community Transport provides a bus and driver to not-for-profit organisations in the area for charitable group rates, transporting 4,700 passengers through this service as well as operating a 'Disability Action' door to door transport service in Antrim and Larne for 500 people annually.
At a council meeting last month, it was agreed behind closed doors to engage with the DfI and other local authorities with a view to "resolving the funding position" and engage with South Antrim Community Transport to "identify whether opportunities exist to extend the service to provide access to employment locations which are difficult to reach".
A DfI spokesperson said: "The Resource Budget allocation for the Department for Infrastructure for 2023/24 does not meet the required need and despite taking extensive decisions to reduce expenditure and raise revenue, the remaining budget shortfall is estimated to be £112m.
"A public consultation has been launched seeking views on the equality impacts of the Resource Budget for 2023/24 and of potential decisions on expenditure across the department, including what the impact of ceasing to fund community transport would be if such a decision was taken.
"Responses received by 12 June 2023 will be used to inform remaining decisions to be taken on how the Department allocates this initial resource budget.
"Any further responses received before the consultation closes on August 7 2023 will be used to inform further mitigation measures and reallocation of any additional funding that may become available during 2023/24.
"Funding for community transport services will continue to be provided at 2022/23 levels until the end of July 2023. This will enable services to continue while the consultation responses are analysed. In the meantime, no final decisions have been taken."
Michelle Weir, Local Democracy Reporter