Antrim and Newtownabbey: DUP representative will be first mayor of new council term
Antrim and Newtownabbey Borough Council will hold the first meeting of its new four-year term on Tuesday evening.
Watch more of our videos on Shots! 
and live on Freeview channel 276
Visit Shots! now
At the annual general meeting, the new mayor and deputy will take up their positions for the next 12 months.
The first citizen's post is expected to be held for the second consecutive year by the DUP after the party retained the highest number of seats in this month's local government election with Sinn Fein believed to be taking the position of deputy mayor.
The mayoral office is currently held by Threemilewater DUP Alderman Stephen Ross. Antrim Ulster Unionist Councillor Leah Smyth is deputy mayor. The DUP held on to 13 seats in Antrim and Newtownabbey but lost one in the election on May 18. The Ulster Unionist Party lost two seats in Antrim and Newtownabbey.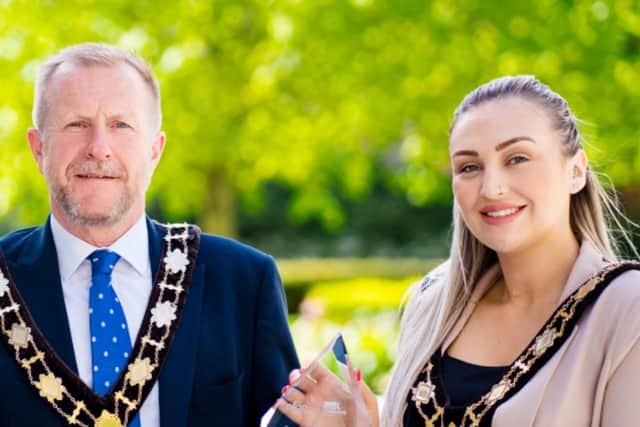 Making the biggest gain was Sinn Fein which increased its number of seats on the council from five to nine putting the party on course to select the borough's first Sinn Fein mayor during the council term.
Alliance gained the first seat in Ballyclare since the amalgamation of Antrim and Newtownabbey Borough Council with the election of teenager Cllr Lewis Boyle who is one of the youngest ever elected political representatives in Northern Ireland.
Another newcomer elected in Ballyclare is DUP Cllr Helen Magill. Overall, there will be nine new representatives entering the Antrim and Newtownabbey Borough Council chamber following the recent election,
There are 13 DUP councillors; nine Sinn Fein; eight Alliance; seven UUP; two independents and one SDLP of whom 10 aldermen will be appointed. During the last term, there were 14 DUP representatives, nine Ulster Unionists, seven Alliance, five Sinn Fein, four SDLP and one independent.
Committee Membership
The council's new committee membership will be agreed at the AGM as well as the positions of chair and vice-chair. The committees are: Planning, Operations, Policy and Governance Audit and Risk and Community Planning.
In February, councillors approved a pay rise for themselves from £15,757 to £16,394 per annum. Councillors are eligible for a basic allowance set by the Department for Communities under the Local Government Finance Act (Northern Ireland) 2011 and the Local Government (Payments to Councillors) Regulations (Northern Ireland) 2019.
A special responsibility allowance is also paid to those who hold posts such as committee chairs and deputy chairs. A separate payment is made to the mayor and deputy mayor. The allowance payable to the mayor is £21,840 and £10,920 to the deputy per annum.
The chair of the Planning Committee is eligible for an annual payment of £8,320 with £3,380 for the vice-chair. The sum of £6,240 is paid to the chair of the other committees apart from the Audit Committee who will be paid £1,820 annually.
The remaining committee vice chairs will be paid £2,860 and the Audit Committee vice-chair is paid £780. The other 10 Planning Committee members will be paid £2,340 each.
A review carried out in May 2021 showed that mayors in other council areas of Northern Ireland could receive an annual allowance between £10,000 and £34,800, their deputies between £5,000 and £9,021 and committee chairs between £1,061 and £8,844.
A dependants' carers' allowance is also available as well as travel and meal allowances for out of town business. A payment of 65 pence per mile by car is available as well as 45 pence per mile by electric car, 24 pence per mile by motorcycle and 20 pence per mile by pedal cycle.
Michelle Weir, Local Democracy Reporter