Antrim and Newtownabbey: freedom of borough and lifetime achievement award for retiring chief executive
Retiring chief executive Jacqui Dixon MBE received a double accolade at her last meeting of Antrim and Newtownabbey Borough Council on Monday evening.
Watch more of our videos on Shots! 
and live on Freeview channel 276
Visit Shots! now
Mrs Dixon who has been employed in local government for 24 years is stepping down from the post she has held since 2014.
Antrim and Newtownabbey Borough Council surprised its outgoing chief executive by conferring its highest honour on her "in recognition of her outstanding service to the council and her special contribution to the development of Antrim and Newtownabbey".
In addition, a presentation of the Van Coulter Lifetime Achievement Award was made to Mrs Dixon by special guest Mo Baines, chief executive of the Association of Public Service Excellence (APSE), for exceptional leadership and in recognition for her exemplary service to local government.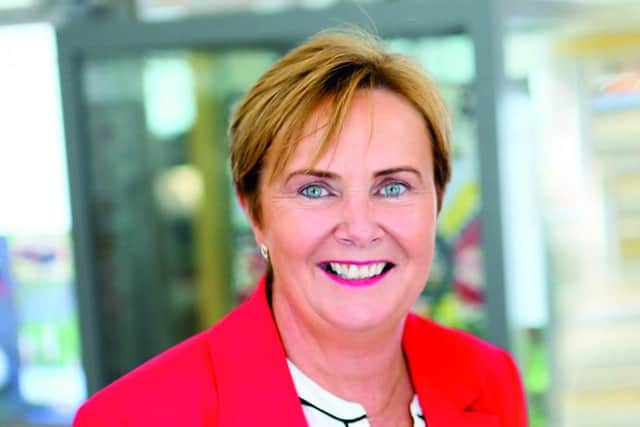 Antrim and Newtownabbey Mayor Councillor Mark Cooper BEM said the decision to bestow the freedom honour, the highest honour which the council can bestow on a citizen, is "to acknowledge the achievement and substantial contribution she has made".
"We can think on no-one better to receive this honour," he added. He went on to say the council's "hard work ethos and can-do attitude" "comes straight from the top".
Economic Success
The mayor attributed the council's economic success and efficiency to Mrs Dixon's "vision and exceptional leadership" before thanking her for her "dedication and service".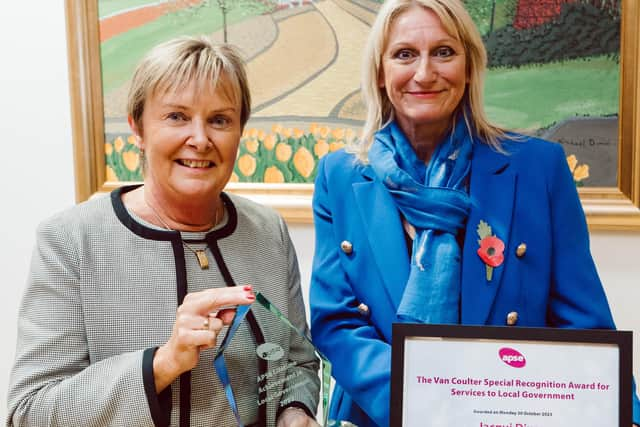 Airport DUP Alderman Matthew Magill described Jacqui as "a giant in local government and across the public sector as a whole".
"When you were dealing with Jacqui, where there was a will, there was a way. I think the state of this organisation is testament to her can-do attitude. She has always led from the front. It is her work ethic and commitment that has filtered down through the organisation to every level."
Macedon Alliance Cllr Billy Webb MBE said the outgoing chief executive is regarded as "one of the best in Northern Ireland". "I know her priority is to deliver for our local community – to improve social, economic and environmental well-being. "
He recalled the Covid pandemic was "the biggest challenge of all" but Jacqui "spearheaded the council's response to ensure vital council services continued to be delivered".
Glengormley Ulster Unionist Ald Mark Cosgrove commended Mrs Dixon's role in establishing the new Antrim and Newtownabbey "supercouncil" in 2015.
He continued that the authority has been "mocked by so-called bigger councils" with its intention to attract £1bn investment . "Those who thought £1bn investment was unrealistic are trying to catch up and replicate that," he claimed.
Glengormley Sinn Fein Cllr Michael Goodman acknowledged the level of work required to merge two borough councils during what he described as "an extraordinary situation". "It was a tremendous effort of the senior management team who worked heroically during that period."
Antrim Cllr Roisin Lynch said: "On behalf of the SDLP, I am delighted to have seconded the proposal for Jacqui to be awarded with freedom of the borough, It is something very deserved.
"A number of us within the chamber and across the borough have benefited from the skill and talent of Jacqui Dixon. She steered the council through difficult times with confidence and integrity. She will leave behind a legacy which will ensure our borough continues to grow and expand."
Ballyclare Independent Cllr Michael Stewart stated: "I am delighted the council has agreed to confer freedom of the borough on our outgoing chief executive Jacqui Dixon. She has been the right leader in the right council at the right time."
Promote Excellence
Mo Baines, APSE chief executive, told the meeting APSE works with more than 300 councils "to promote excellence in local service". She explained the prestigious national award was being presented to Jacqui "in recognition of her exemplary service to local government".
She continued: "I do not come as an individual or an individual organisation. I come on behalf of more than 300 local government members from across the UK." She noted there are just three previous recipients of this award.
She told Jacqui: "Your compassion, your kindness and dedication to public service shines not just in Northern Ireland but right across the UK. I want to say a huge thank-you for your service to local government and accept this award on behalf of all UK local government."
Mrs Dixon replied: "It is a real honour to receive the Van Coulter Lifetime Achievement Award. It is very much appreciated. It means a lot to me personally.
"It is an accolade for everyone in Antrim and Newtownabbey Borough Council and also that the council has bestowed me with the freedom of the borough. I know it is the highest honour that can be awarded to an individual. I am very humbled to have been given that award as well. To be awarded freedom of the borough is really special to me."
Mrs Dixon will be succeeded by Richard Baker, corporate director for leisure and development services Causeway Coast and Glens Borough Council, who will take up the role in mid-November.
Michelle Weir, Local Democracy Reporter