The borough council has received a request from the Ulster Council GAA for the installation of wall ball facilities for handball.
The cost has been estimated at between £9k and £10k for the installation of three wall ball courts in the leisure centre's sports hall.
Councillors have been told that availability of the sports hall for this activity would be "largely limited to off-peak times" as the hall is used for indoor soccer, netball and fitness classes during peak hours , a report said.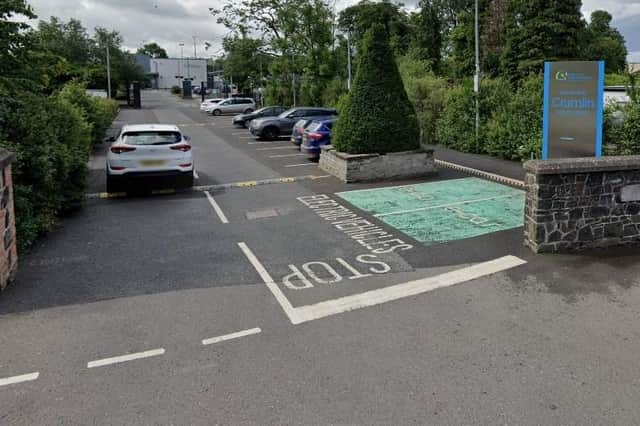 "The construction of the wall would result in the installation protruding slightly which would present some health and safety concerns for some other users, notably five-a-side soccer. Therefore, the installation of a wall ball facility in Crumlin Leisure Centre is not feasible."
Glengormley DUP Councillor Alison Bennington said she has already requested pickleball facilities and suggested that a strategy is put forward for all sports in the borough. She added she was "not ruling it out" but a strategy would show which sports need to "take priority".
Airport SDLP Alderman Thomas Burns noted the walls are already present at the leisure centre and it would just require painting to mark out a court area.
Matt McDowell, director of Parks and Leisure Operations, explained: "The issue with providing wall ball is that the wall needs to be flush. A built wall would be protruding and could be a risk to others playing more dynamic sports such a five-a-side. That was why it was judged not feasible."
Old Gym
Cllr Burns asked if the old gym could not be adapted for ball sports. He was told it would not be suitable due to the ceiling height.
Cllr Bennington commented: "In my day, you played ball against a gable wall of a house." She went on to say a sports strategy would look at sports not usually played to see if there is a council facility that could be used.
She remarked the GAA did not respond to the council's pitch strategy survey but "can write to us to get a ball wall". Ald Burns replied: "We will leave the pitch strategy where it is."
Seconding the proposal, he added: "There needs to be a strategy for those softball sports. I would like to know how other leisure centres get round those problems. They are not unique to Crumlin Leisure Centre."
The officer responded: "The advice was that we need to have a ball wall flush and this would be protruding and that was why is is not feasible at Crumlin."
Antrim Ulster Unionist Cllr Jim Montgomery asked Cllr Burns to clarify what happened with the GAA and the pitch strategy. The SDLP has reported that GAA clubs in the borough did not receive a council survey.
Committee chair Antrim Alliance Cllr Neil Kelly stated: "It is not an agenda item here tonight."
Michelle Weir, Local Democracy Reporter