David Hilditch: fitting farewell planned for the 'mayor of Carrick'
Carrickfergus Town Hall will provide a fitting venue as the community gathers to say to farewell to former East Antrim MLA David Hilditch tomorrow (Friday).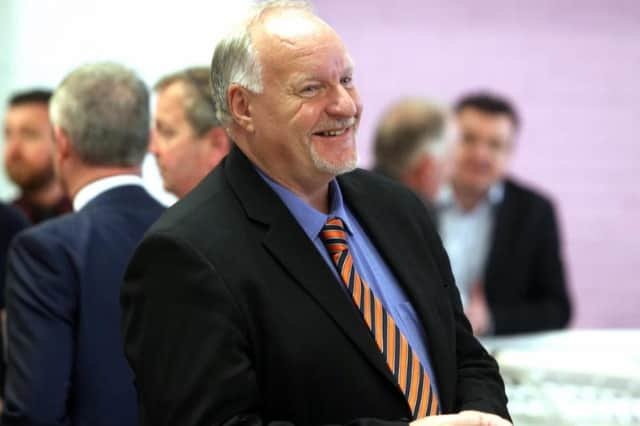 The DUP politician, who died on Sunday after a courageous battle with cancer, served as first citizen of the town over two separate periods (1997 and 2004 – 2008) and was affectionately referred to at the 'mayor of Carrick' by his late party leader Dr Ian Paisley. A celebration of David's life will be held at 1.30pm in the Antrim Street building and afterwards to Victoria Cemetery.
As well as 32 years of public service as both councillor and then Assembly Member, Mr Hilditch was heavily involved in many aspects of community life ranging from band hall office bearer to town centre re-development group chair. A prominent member of the Loyal Orders, he was instrumental in the expansion of the King William Landing re-enactment pageant that brings thousands of people to Carrickfergus every June.
A passionate sports fan, he had a long association with Carrick Rangers Football Club, where he was a director before his untimely death at the age of 60. His emotional ties to Taylor's Avenue were further cemented following the death of his son Stuart, a former player, from cancer in 2019.
Paying tribute to their late colleague, Carrick Rangers said David was "a pillar of the club" while DUP leader Sir Jeffrey Donaldson said he "had a passion for people and believed in serving others whether that was in the political realm or his beloved Carrick Rangers Football Club".
Messages of sympathy have come from across the political spectrum. Assembly Speaker, Sinn Fein's Alex Maskey; the Alliance Mayor for Mid and East Antrim, Gerardine Mulvenna and TUV leader Jim Allister were among those extending condolences to the Hilditch family.
A notice on the Funeral Times website said David Hilditch was "called home 5th November 2023 peacefully at Macmillan Unit in Antrim Area Hospital with loving family by his side".
The notice added: "Much loved father of Michael and the late Stuart. Father-in-law of Julie-Ann. Proud grandfather to Megan, Paige and Jack. Beloved brother of Joan and Jim."
Mr Hilditch, a former postal worker, was also a member of Victoria Evangelical Hall, Carrickfergus and a lifelong friend of the church's pastor, Drew Hamill.
A statement from the church read: "It was with much sadness and heartache that we learnt the passing of our esteemed member David Hilditch this morning (Sunday). It's a time of much sadness but we rejoice on knowing that he's at home with his Lord and Saviour. Please pray for David's family and friends during this difficult time."
When Mr Hilditch announced he was stepping down from the Assembly due to ill-health in September, he was replaced by Cheryl Brownlee, who worked alongside him in his constituency office.
In a touching personal tribute, she said: "When I first met Davy he changed my opinion on what a politician was, or could be. He was so deeply routed in his community, so passionate and dedicated to Carrickfergus. He was fiercely loyal, trustworthy and honest, those qualities I admired for so long and made him stand out from the crowd, he was the man that got things done."